Dulse Extract(Dillisk Extract)
Dulse Extract(Dillisk Extract)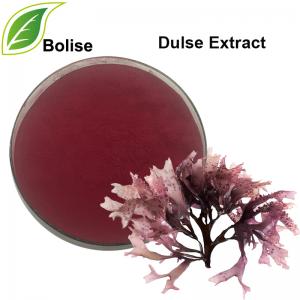 [ Specification ]  66%vitamin B12, 28%protein ,iodine
[ Detection method ] HPLC
[ Botanical Name ]  Palmaria Palmata
[ Used Part ] Leaf
[ Appearance ]  Brown Red powder
[ Therapeutic Uses ]
1) In traditional European herbal medicine, dulse was used to remove parasites, to relieve constipation, and as a treatment for scurvy. 
2) Dulse Extract is a superior source of phytochemicals the body needs to make thyroid hormones that affect weight and metabolic rate. 
3) Dulse Extract is also affective as a gentle alternative to Psyllium or Senna for the treatment of constipation. It's very high in fiber.
[ Function ]
1. Inhibition of cancer cell;
2. Cervical cancer;
3. Anti-aging;
4. Sunscreen;
5. Constipation;
6. Scurvy;
[ Application ]
1.Applied in pharmaceutical
2.Applied in medicine
3.Applied in cosmetics 
4.Applied in health products
COA of Palmaria Palmata Extract
Loss on drying: 3.64%
Residue on Ignition: 3.12%
Mesh Side: 100% pass 80 mesh
Residual solvents: ≤0.05%
Ratio Extract: 4:1
Calcium: 5%~10%
Heavy metal: ≤20ppm
As: ≤0.5ppm
Pb:≤0.5ppm
Cd: ≤0.5ppm
Residual Pesticide: Negative
Total Plate Count:  ≤1000cfu/g
Yeast & Mold:  ≤100cfu/g
Salmonella:  Negative
E. Coli: Negative
About Dulse Extract(Dillisk Extract)
Palmaria palmata (L.) Kuntze, also called dulse, dillisk, dilsk or creathnach, is a red alga (Rhodophyta) previously referred to as Rhodymenia palmata (Linnaeus) Greville. It grows on the northern coasts of the Atlantic and Pacific oceans. It is a well-known snack food, and in Iceland, where it is known as söl, it has been an important source of fibre throughout the centuries.
Dulse is a good source of minerals and vitamins compared with other vegetables, contains all trace elements needed by humans, and has a high protein content.
For more information of product, please send the email to bkherb@globals-globals.com


After send online enquiry, we will reply you as soon as possible, if not get any response on time please contact us by Tel or Email.This form is unable to receive your inquiry from aol, hotmail, gmail or others but company email address.
E-MAIL:bkherb@globals-globals.com
TEL: +86 592 536 5868
WHATSAPP: +86 189 6516 2351