Diosmin (Citrus Aurantium Extract)
Diosmin (Citrus Aurantium Extract)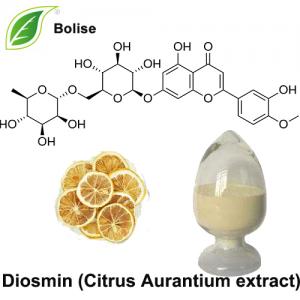 [ Specification ] 95% Diosmin
[ Detection method ]  HPLC
[ Botanical Name ]   Citrus Aurantium L.
[CAS No. ]  520-27-4 
[ Molecular Formula ]  C28H32O15
[ Molecular weight ] 608.545
[ Appearance ] Light yellow hygroscopic powder
COA of Diosmin
Content: ≥90%
Iodine:  <0.1%
Hydrochloric acid ash:  <0.2%
Scraps: <0.2%
Heavy Metal: <20ppm
Solubility: Hardly soluble in water, but soluble in dimethyl sulfoxide and hardly soluble in ethanol.
Storage: Store in sealed place
About Diosmin
Diosmin is a naturally occurring flavonoid glycoside isolated from various plants and the flavonoid hesperidin. Hesperidin is extracted and isolated from orange or lemon rinds.The hesperidin is then converted to Diosmin using a proprietary procedure. The remaining product is 92% - 95% Diosmin and 5% - 8% "free" hesperidin. Diosmin differs from hesperidin by the absence of a double bond between two carbon atoms (C2-C3).
Diosmin is a veinotropic agent and vasculoprotective compound which increases the capillary resistance of blood vessels, increases vein tonicity and decreases capillary permeability. Diosmin has an anti-inflammatory activity related to an inhibition of prostaglandin synthesis. used to treat chronic venous insuficiency, hemorrhoids, lymphedema, and varicose veins. Diosmin is also a powerful antiinflammatory and free-radical scavenging agent. Diosmin should also be used for dermatitis and wound healing. 
Diosmin has been used for more than 30 years as a vein tonic and vascularprotecting agent. It is now being researched for cancer, premenstrual syndrome, colitis, and diabetes.
Diosmin improves vein tone, increases lymphatic drainage, protects capillaries, inhibits inflammation, and reduces capillary fragility and permeability.
For more information of product, please send the email to bkherb@globals-globals.com


After send online enquiry, we will reply you as soon as possible, if not get any response on time please contact us by Tel or Email.This form is unable to receive your inquiry from aol, hotmail, gmail or others but company email address.
E-MAIL:bkherb@globals-globals.com
TEL: +86 592 536 5868
WHATSAPP: +86 189 6516 2351