D-Pinitol
D-Pinitol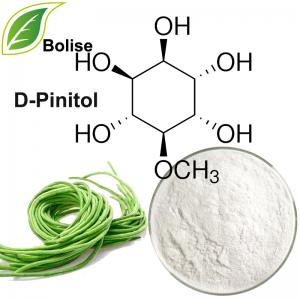 [ Chemical Names ]  3-O-Methyl-D-chiro-inositol;  D-(+)-Pinitol
[ CAS No. ] 10284-63-6  
[ Molecular Formula ]  C7H14O6
[ Appearance ]  White fine powder
[ Specification ] 98%D-Pinitol
[ Detection method ] HPLC 
COA of D-Pinitol(Carob Bean Extract)
Loss on Drying:  0.03%
Residue on ignition:  0.22%
Specific Rotation(a)20D 5% solution:  +55.9°
Melting Point: 181-182℃
Heavy Metal:  ≦10ppm
Arsenic(As):   ≦2ppm
Lead(Pb):  ≦1ppm
Assay(on dried basis): 98.3% test by HPLC
Total Plate Count:  ≦10000cfu/g
Total Yeast &Mold:  ≦1000cfu/g
E.Coli:  Negative
Salmonella:  Negative
About D-Pinitol
Pinitol (sometimes referred to as D-Pinitol) is a type of sugar that occurs in many types of legumes and is classified as a Chiro-insositol (meaning it is a sugar alcohol). 
Pinitol has been shown to not add any calories when consumed and, critically, it has been demonstrated to have a hypoglycemic effect, i.e. the ability to reduce blood sugar levels (normally by at least 10% and often as much as 20%), which is critical to individuals with diabetes. It is regarded by many doctors as one of the best insulin mimickers.
Pinitol considerably increases the ability of muscle cells to absorb glucose, with consequent benefits for sports where there are requirements for strength and endurance, with the added benefit of shortened recovery times. It also has a positive effect on the ability of muscles to store carbohydrates, allowing for muscle growth whilst permitting the burning of fat. The creatine retention promotion properties of Pinitol have been documented and because of this, Pinitol is being increasingly used by bodybuilders.
This ability to increase muscle mass has strong applications to the treatment of wasting syndrome in cancer, HIV / AIDS and tuberculosis. Sutherlandia has been used in Africa for generations to treat sufferers of tuberculosis, with impressive results.
[ Storage ]
Store in cool & dry place; Keep away from strong light and high heat.
[ Shelf life ]
24 months when properly stored
[ Package ]
Enterprise standard. Drums or cartons, 25kgs/drum(carton),2.5kg/bag, double vacuum plastic packing (vacuum sealed foil bags) inside.
For more information of product, please send the email to bkherb@globals-globals.com


After send online enquiry, we will reply you as soon as possible, if not get any response on time please contact us by Tel or Email.This form is unable to receive your inquiry from aol, hotmail, gmail or others but company email address.
E-MAIL:bkherb@globals-globals.com
TEL: +86 592 536 5868
WHATSAPP: +86 189 6516 2351