Coneflower Extract(Echinacea P.E)
Coneflower Extract(Echinacea P.E)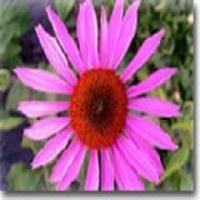 [Specification]                    Polysaccharide 4% Cichoric acid 2%-4%
[Detection method]           HPLC
[Botanical Name]              Echinacea Purpurea
[Active ingredient]  
The main active ingredient is phenol compounds such as Echinacoside, Verbascoside, Cichoric acid, Cafferic acid, Chlorogenic acid and so on, and also includevarious alkylamine, avone, polysaccharide and seldom voltatile oil 
[About Echinacea Purpurea Extract ]
Echinacea purpurea, a kind of Echinacea which belongs to Chrysanthemum family, is planted in America originally and takes possiession of high medicinal value. The extract from its root, stem and leaves is yellowish powder. the clinical experiments have proved that Its compound effect can strengthen the immunity. Especially, at the early stage of catching cold or influenza. It plays wonderful effects on the patients. It can strengthen the immunity and shorten the fit of the respiratory infection, relieving headache and nose inflammation. The singular prescription can strengthen the immunity within the human boby, resisting against the viral attack.
[Description]                                      Yellwish powder 
[Phenols]                                           >4%
[Particle size]                                     80 mesh
[Loss on drying]                                  <5%
[Heavy metals]                                    <20ppm
[Arsenic]                                            <2ppm 
[Total plate count]                            <1000cfu/g
[Molds and yeast]                             <100cfu/g
[Salmonella]                                       Negative
[Pharmacology function]   
Echinacea stimulates the body''s immune system against all infectious and inflammatory, conditions, counteracts pus, and stimulates digestion. It specifically strengthens the immunesystem against pathogenic infection by stimulating phagocytosis, T-cell formation, and by inhibiting the hyalurinadase enzyme secreted by bacteria to effect the breakdown of remedies against all kinds of bacterial and viral infections.
For more information of product, please send the email to bkherb@globals-globals.com


After send online enquiry, we will reply you as soon as possible, if not get any response on time please contact us by Tel or Email.This form is unable to receive your inquiry from aol, hotmail, gmail or others but company email address.
E-MAIL:bkherb@globals-globals.com
TEL: +86 592 536 5868
WHATSAPP: +86 189 6516 2351