Common Cnidium Fruit Extract(Fructus Cnidii Extract)
Common Cnidium Fruit Extract(Fructus Cnidii Extract)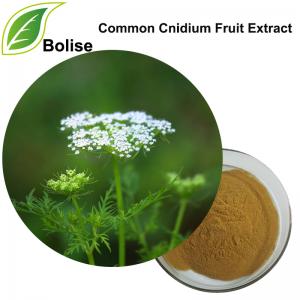 [ Botanical Name ]  Cnidium monnieri (L.) Cuss.
[ Used Part ]  Fruit
[ Specification ] Osthole98%
[ Detection method ] HPLC
[ Appearance ]  Light yellow Powder
[ Active Ingredient ]  Osthole
COA of Cnidium Monnieri Extract
Loss on drying: 3.53%
Residue on ignition: 1.63%
Mesh Size:100% pass 80 mesh
Extract Ratio: 10:1
Heavy metal: ≤10ppm
As: ≤0.5ppm
Residual Pesticide: Negative
Total Plate Count:  ≤1000cfu/g
Yeast & Mold:  ≤100cfu/g
Salmonella:  Negative
E. Coli:  Negative
Function of Cnidium Monnieri Extract
1) It is found to help relax the corpus cavernosa of the penis, which would potentially help with blood flow and erections. 
2) It is usded in china for skin problems and also as a natural sex booster. 
3) Osthole warms the kidney and improves sexual function.
4) Osthole destroys parasite and relieves itching. Osthole can be used to treat trichomonas vaginitis, eczema of scrotum, rubella, scabies, tinea, cutaneous pruritus, etc.
About Common Cnidium Fruit Extract(Fructus Cnidii Extract)
Cnidium Monnieri may improve conditions including impotence, female infertility, vaginal itching, and yeast infections. It often causes a deterioration of symptoms in men with chronic spermatorrhea and premature ejaculation. Cnidium has some astringent quality, which means that it will help prevent premature ejaculation in men. 
Common Cnidium Fruit Extract can used as the tonic product on the male impotence, active ingredients of medicines for gynecological diseases , it is widely used in fields of health products.
Common Cnidium Fruit Extract is used for the tonic product on the acute exudative skin disease.
[ Storage ]
Store in cool & dry place; Keep away from strong light and high heat.
[ Shelf life ]
24 months when properly stored
[ Package ]
Enterprise standard. Drums or cartons, 25kgs/drum(carton),2.5kg/bag, double vacuum plastic packing (vacuum sealed foil bags) inside.
For more information of product, please send the email to bkherb@globals-globals.com


After send online enquiry, we will reply you as soon as possible, if not get any response on time please contact us by Tel or Email.This form is unable to receive your inquiry from aol, hotmail, gmail or others but company email address.
E-MAIL:bkherb@globals-globals.com
TEL: +86 592 536 5868
WHATSAPP: +86 189 6516 2351