Common Cissamplos Herb Extract(Herba Cissampelotis Extract)
Common Cissamplos Herb Extract(Herba Cissampelotis Extract)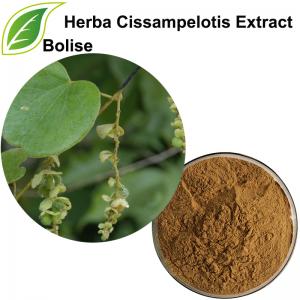 Specification: cissampareine,hayatine
Detection method: HPLC
Botanical Name:Cissampelos pareira L.var. hirsuta (Buch. ex DC.)Formen  
About Common Cissamplos Herb Extract:
Common Cissamplos Herb is the dried whole plant of Cissampelos pareira L.var. hirsuta (Buch, ex DC.) For men (Fam. Menispermac- eae) , used commonly in the Dai nationally.
Functions: To cause the subsidence of swelling, and relieve pain, to arrest bleeding, and to promote the growth of new tissues.
Indications: Traumatic swelling, pain and bleeding.
Usage:For traumatic swelling and pain, appropriate quantity of the dried powder to be applied topically after mixing with egg white; for traumatic bleeding, appropriate quantity of dry poder to be applied externally.
For more information of product, please send the email to bkherb@globals-globals.com


After send online enquiry, we will reply you as soon as possible, if not get any response on time please contact us by Tel or Email.This form is unable to receive your inquiry from aol, hotmail, gmail or others but company email address.
E-MAIL:bkherb@globals-globals.com
TEL: +86 592 536 5868
WHATSAPP: +86 189 6516 2351