Common Andrographis Herb extract(Herba Andrographitis Extract)
Common Andrographis Herb extract(Herba Andrographitis Extract)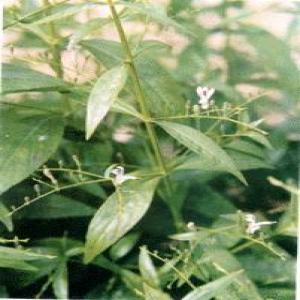 Specification: Deoxyandrographolide>0.1 %,Andrographolide>l.5%
Detection method:  HPLC
Botanical Name:  Andrographis paniculata(Burm.f.)Nees
About Common Andrographis Herb:
Andrographis paniculata, the Kalmegh of Ayurveda is an erect annual herb extremely bitter in taste in each and every part of the plant body. The plant is known in north-eastern India as 'Maha-tita', literally 'king of bitters' and known by various vernacular names (Table below). It is also known as 'Bhui-neem', since the plant, though much smaller in size, shows similar appearance and has bitter taste as that of Neem (Azadirachta indica). In Malaysia, it is known as 'Hempedu Bumi' literally means 'bile of earth' since it is one of the most bitter plant that are used in traditional medicine. In Tamil it is called as 'Sirunangai' or 'Siriyanangai'. The genus Andrographis consists of 28 species of small annual shrubs essentially distributed in tropical Asia. Only a few species are medicinal, of which A. paniculata is the most popular.
Action: To remove heat, couteract toxicity, and induce subsidence of swelling.
Indications: Influenza with fever, sore throat, ulcers in the mouth or on the tongue; acute or chronic cough; colitis, dysentery; urinary infection with difficult painful urination; carbuncles, sores, venomous snake bite.
Usage: Appropriate quantity for external use.
For more information of product, please send the email to bkherb@globals-globals.com


After send online enquiry, we will reply you as soon as possible, if not get any response on time please contact us by Tel or Email.This form is unable to receive your inquiry from aol, hotmail, gmail or others but company email address.
E-MAIL:bkherb@globals-globals.com
TEL: +86 592 536 5868
WHATSAPP: +86 189 6516 2351