Comfrey Extract
Comfrey Extract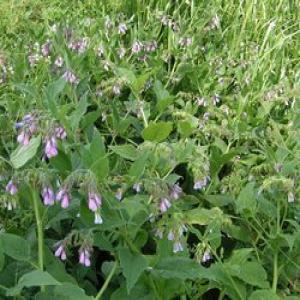 Specification: Allantoin
Detection method:HPLC
Botanical Name:  Symphytum officinale (L)
About Comfrey Extract:
Comfrey leaves are of much value as an external remedy. The whole plant has always been deemed excellent for soothing pain in any tender, inflamed or suppurating part. It was formerly applied to raw, indolent ulcers as a glutinous astringent. It is useful in any kind of inflammatory swelling. 
Allantoin is present in botanical extracts of the comfrey plant and urine from cows and most mammals. Chemically synthesized bulk allantoin is nature-identical, safe, non-toxic, compatible with cosmetic raw materials and meets CTFA and JSCI requirements. Over 10,000 patents reference allantoin.  Manufacturers cite several beneficial effects for allantoin as an active ingredient in over-the-counter cosmetics: a moisturizing and keratolytic effect, increasing the water content of the extracellular matrix and enhancing the desquamation of upper layers of dead skin cells, increasing the smoothness of the skin; promotion of cell proliferation and wound healing; and a soothing, anti-irritant, and skin protectant effect by forming complexes with irritant and sensitizing agents. It is frequently present in toothpaste, mouthwash, and other oral hygiene products, in shampoos, lipsticks, anti-acne products, sun care products, and clarifying lotions, various cosmetic lotions and creams, and other cosmetic and pharmaceutical products. Allantoin has not been proven scientifically to reduce the appearance of aging.
For more information of product, please send the email to bkherb@globals-globals.com


After send online enquiry, we will reply you as soon as possible, if not get any response on time please contact us by Tel or Email.This form is unable to receive your inquiry from aol, hotmail, gmail or others but company email address.
E-MAIL:bkherb@globals-globals.com
TEL: +86 592 536 5868
WHATSAPP: +86 189 6516 2351