Coix Seed extract(Job's Tear Seed Extract )
Coix Seed extract(Job's Tear Seed Extract )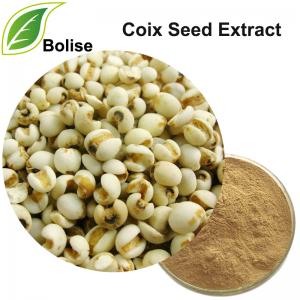 Specification: 16.2%protein 79%carbohydrate
Detection method: HPLC
Botanical Name:  Semen Coicis/Coix lacryma-jobi L.
About  Coix Seed :
Coix Seed Strengthens the spleen and lung, excreting dampness and inducing diuresis, clearing away heat to drain pus.
1)For deficient spleen,excessive dampness and disorderly diges-tion in carcinoma of digestive tract, it is used with olden-landia, white atrac-tylodes rhizome , poria, greenbrier rhizome, shell of areca nut and others.
2) For phlegm- heat accompanied with dampness in lung cancer, it is used together with lepi-dium seed , trichosanthes fruit, dandelion, hout-tuynia, poria and others.
3) For accumulation of dampness and excess toxin in cancers of uterine cervix and ovary, it is used with phellodendron bark, seven-lobed yam, Hindu lotus stamen and toona.
4) For chorioepithelioma, it is used with houttuynia, adsuki bean seed, patrinia, astragalus root, rubia rot, waxgourd seed, chinese ange-lica root, danghsen, donkey-hide gelatin,licorice root, etc. It induces antitumour and en-hances immunologicfunction. The extract and decoc-tion of coix seedinhibit various tumourcells. Its active component, coixeno-lide, promotes cellu-lar immunity and humoral immunity.
For more information of product, please send the email to bkherb@globals-globals.com


After send online enquiry, we will reply you as soon as possible, if not get any response on time please contact us by Tel or Email.This form is unable to receive your inquiry from aol, hotmail, gmail or others but company email address.
E-MAIL:bkherb@globals-globals.com
TEL: +86 592 536 5868
WHATSAPP: +86 189 6516 2351