Cinnamon Oil
Cinnamon Oil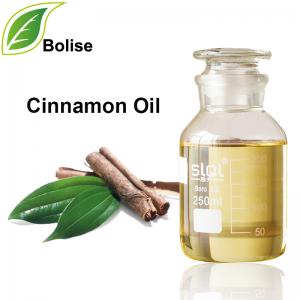 [ Specification ]  cinnamaldehyde,eugenol
[ Detection method ] HPLC 
[ Botanical Name ] Cortex Cinnamomi Cassiae 
[ Appearance] Light Yellow Essential Oil
[ Solubility ]
Slightly soluble in water.
Soluble in equal amounts of water and Glacial Acetic Acid
[ Usage ]  cosmetic and medical industry
COA of Cinnamon Oil
Relative Density: 1.050
Refractive Index: 1.603
Trans-Cinnamaldehyde: 85.62% 
Heavy metal: ≤10ppm
As: ≤2.0ppm
Total Plate Count:  ≤1000cfu/g
Yeast & Mold: ≤100cfu/g
Salmonella: Negative
E. Coli: Negative
Staphylococcus:  Negative
About Cinnamon Oil
Cinnamon oil is an essential oil that is taken from the leaves and barks of the cinnamon through steam distillation. The active components in this oil are Cinnamaldehyde, Cinnamyl Acetate, Cinnamyl Alcohol and many other polyphenolic polymers. It has many uses and benefits for humans and can be found in many industries. 
Cinnamon has been in use in almost all cultures for treating menstruation, Cold, Yeast Infection, Arthritis, Diarrhoea and Digestive problems.Cinnamon is the important source of Calcium(Ca), Iron(Fe), andManganese(Mn). It can also be quoted under the following Anti-"Stringent, Bacterial, Fungal, Microbial and Clotting" properties.
For more information of product, please send the email to bkherb@globals-globals.com


After send online enquiry, we will reply you as soon as possible, if not get any response on time please contact us by Tel or Email.This form is unable to receive your inquiry from aol, hotmail, gmail or others but company email address.
E-MAIL:bkherb@globals-globals.com
TEL: +86 592 536 5868
WHATSAPP: +86 189 6516 2351