Chinese Thorowax Root Extract(Radix Bupleuri Extract)
Chinese Thorowax Root Extract(Radix Bupleuri Extract)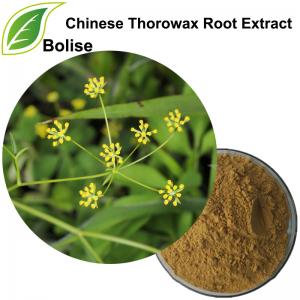 Specification: pentanoic acid,hexanoic acid
Detection method:    HPLC
Botanical Name:Bupleurum chinense DC./Bupleurum scorzonerifolium Willd./Bupleurum longiradiatum Turcz.   
About Chinese Thorowax Root Extract:
Chinese Thorowax Root is the dried root of Bupleurum chinense DC. or Bupleurum scorzonerifolium Willd. (Fam. Umbelliferae). According to the difference of the origin, and description, the former is known as "Beichaihu" (Northern chinese Thorowax Root), and the latter is known as "Nanchaihu" (Southern chinese Thorowax Root).
Functions: To relieve fever, to soothe the liver and to cure drooping and ptosis.
Indications: Influenza or common cold with fever; alternate chills and fever such as malaria; distending pain in the chest and hypochondriac regions; menstrual disorders; prolapse of the uterus, prolapse of the rectum.
Precaution:The dried rhizome of Bupleurum longiradiatum Turoz, covered with numerous annular nodes externally is poisonous and can not be used as Radix Bupleuri.
For more information of product, please send the email to bkherb@globals-globals.com


After send online enquiry, we will reply you as soon as possible, if not get any response on time please contact us by Tel or Email.This form is unable to receive your inquiry from aol, hotmail, gmail or others but company email address.
E-MAIL:bkherb@globals-globals.com
TEL: +86 592 536 5868
WHATSAPP: +86 189 6516 2351