Chinese Gentian Root Extract(Radix Gentianae Extract)
Chinese Gentian Root Extract(Radix Gentianae Extract)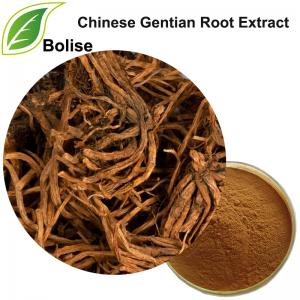 Specification: 2%Gentiopicroside,swertiamarin,gentiobiose 
Detection method:HPLC
Botanical Name:  Gentiana  scabra  Bge.
About Chinese Gentian Root:
This herb is used for inflammatory conditions associated with jaundice, itching, herpes virus, leukorrhea, venereal diseases, hepatitis, cholecystitis, and hypertension. Symptoms can include fever, headache, restlessness, abdominal pain, sore throat, bitter mouth taste, flank pain, and redness of the conjunctiva of the eyes.
Usage:
1)Drains damp-heat from the liver and gallbladder channels - red, swollen, sore throat, eyes, and/or ears, sudden deafness, jaundice, pain, swelling or dampness in the genital region, or foul smelling vaginal discharge and itching. 
2)Clears ascending liver fire - headache, red eyes; liver wind-heat with fever, spasms, convulsions, flank pain. 
For more information of product, please send the email to bkherb@globals-globals.com


After send online enquiry, we will reply you as soon as possible, if not get any response on time please contact us by Tel or Email.This form is unable to receive your inquiry from aol, hotmail, gmail or others but company email address.
E-MAIL:bkherb@globals-globals.com
TEL: +86 592 536 5868
WHATSAPP: +86 189 6516 2351