Chinese Dwarf Cherry Seed Extract(Semen Pruni Extract)
Chinese Dwarf Cherry Seed Extract(Semen Pruni Extract)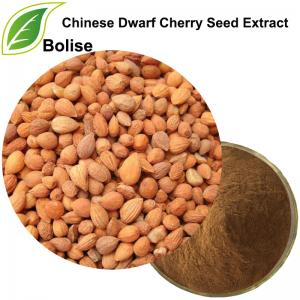 Specification: 1.82%amygdalin
Detection method:    HPLC
Botanical Name: Prunus humilis Bge./Prunus japonica Thunb./Prunus pedunculata Maxim.  
About Chinese Dwarf Cherry Seed Extract:
Chinese Dwarf Cherry Seed is the dried ripe seed of Prunus humilis Bge., Prunus japonica Thunb. or Prunus pedunculata Maxim. (Fam. Rosaceae).
Functions: To relax the bowles, and to cause diuresis.
Indications: Stagnancy of undigested food with abdominal distension and constipation; weakness and edema of the legs with oliguria.
For more information of product, please send the email to [email protected]


After send online enquiry, we will reply you as soon as possible, if not get any response on time please contact us by Tel or Email.This form is unable to receive your inquiry from aol, hotmail, gmail or others but company email address.
E-MAIL:[email protected]
TEL: +86 592 536 5868
WHATSAPP: +86 189 6516 2351