Cat's claw extract
Cat's claw extract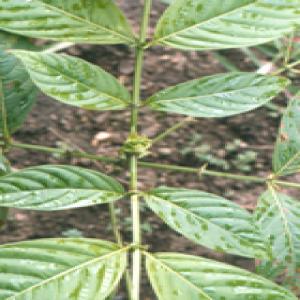 Specification:  3-5% Alkaloids
Detection method: HPLC
Botanical Name:  Uncaria tomentosa
About cat's claw extract:
Cat's claw is a vine that grows in Peru. The plant gets its name from pairs of large, curved thorns that grow along the vine. 
Functions:
1)Peruvian natives use cat's claw to treat inflammatory diseases like arthritis, to clean out the digestive tract and to treat cancer. It has also been used to treat dysentery, recovery from childbirth, and women's hormone imbalances.
2)In laboratory studies, cat's claw normalizes some immune system functions. It also appears to help reduce blood clotting. We do not know if these laboratory results will carry over to studies in people.
3)There have been some small human studies, including in people with AIDS. The results were inconclusive. In one study, cat's claw speeded the healing of people with herpes simplex virus (cold sores or genital herpes) and herpes zoster virus (shingles). A company that makes a purified version of cat's claw did this study. No independent researchers have gotten similar results.
For more information of product, please send the email to bkherb@globals-globals.com


After send online enquiry, we will reply you as soon as possible, if not get any response on time please contact us by Tel or Email.This form is unable to receive your inquiry from aol, hotmail, gmail or others but company email address.
E-MAIL:bkherb@globals-globals.com
TEL: +86 592 536 5868
WHATSAPP: +86 189 6516 2351