Castor Oil (ricinoleic acid )
Castor Oil (ricinoleic acid )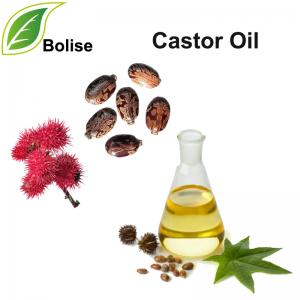 Specification: 90% ricinoleic acid
Detection method: HPLC
Botanical Name:  Ricinus communis
About Castor Oil:
Castor oil contains the three carbon, glycerin, but 85 percent of the oil is ricinoleic acid, an eighteen carbon chain of triglycerides.Ricinoleic acid is the main component of castor oil and it exerts anti-inflammatory effects. The glycerin is extracted and used in cosmetics and pharmaceuticals. It is also an intermediate product in the manufacture of adhesives and explosives. And it is the plasticizer that keeps plastics plastic. 
Castor oil penetrates deep into the skin thanks to its molecular weight, which is low enough to penetrate into the stratum corneum. Castor Isostearate Succinate is a polymeric mixture of esters with Isostearic Acid and Succinic Acid used for skin conditioning, such as in shampoo, lipstick and lip balm.
One study has found that castor oil decreased pain more than ultrasound gel or Vaseline during extracorporeal shockwave application.
For more information of product, please send the email to sales@boliseco.com


After send online enquiry, we will reply you as soon as possible, if not get any response on time please contact us by Tel or Email.This form is unable to receive your inquiry from aol, hotmail, gmail or others but company email address.
E-MAIL:sales@boliseco.com
TEL: +86 592 536 5868
WHATSAPP: +86 189 6516 2351