Cassia Seed Extract(Semen Cassiae Extract)
Cassia Seed Extract(Semen Cassiae Extract)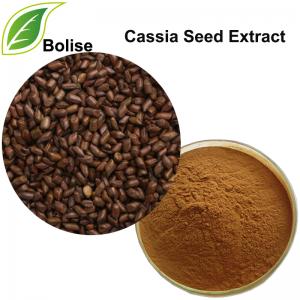 [ Botanical Name ] Cassia obtusifolia L./Cassia tora L.
[ Specification ] Physcion,anthraquinones 
[ Detection method ]  HPLC
[ Used Part ]  Seed
[ Appearance ]  Brown Fine Powder
Main Function of Semen Cassiae Extract
1.Antibacterial effect:
2.Clearing heat, improve eyesight:
3.Cure constipation, lose weight.
4. Fall blood pressure, fall hematic fat .
5. Treating conjunctival congestion swelling and pain, dizziness and headache .
COA of Semen Cassiae Extract
Loss on drying: 2.75%
Ash: 2.56%
Mesh Size: 100% pass 80 mesh    
Ratio extract: 10:1
Heavy metal: ≤10ppm
As: ≤2.0ppm
Residual Pesticide: Negative
Total Plate Count: ≤1000cfu/g
Yeast & Mold: ≤100cfu/g
Salmonella: Negative
E. Coli: Negative
About Cassia Seed Extract(Semen Cassiae Extract)
Cassia Seed is the dried ripe seed of Cassia obtusifolia L. or Cassia tora L.(Fam. Leguminosae).Major chemical constituents of Cassia are: anthraquinones, betulinic acid, chrysophanol, emodin, rhein, physcion, emodin glucoside, emodinanthrone, obtusin, aurantio-obtusin, rubrofusarin, norrubrofusarin, torachryson, toralactone, vitamin A, and many others.
Action: To remove heat from the liver, to improve eyesight, and to relax bowels.
Indications: Inflammation of the eye with pain, photophobia and lacrimination; headache, dizziness, blurred vision and constipation.
[ Storage ]
Store in sealed containers at cool & dry place.
Protect from light, moisture and pest infestation.
[ Shelf life ]
24 months when properly stored
[ Package ]
Enterprise standard. Drums or cartons, 25kgs/drum(carton),2.5kg/bag, double vacuum plastic packing (vacuum sealed foil bags) inside.
For more information of product, please send the email to bkherb@globals-globals.com


After send online enquiry, we will reply you as soon as possible, if not get any response on time please contact us by Tel or Email.This form is unable to receive your inquiry from aol, hotmail, gmail or others but company email address.
E-MAIL:bkherb@globals-globals.com
TEL: +86 592 536 5868
WHATSAPP: +86 189 6516 2351