Camphor extract
Camphor extract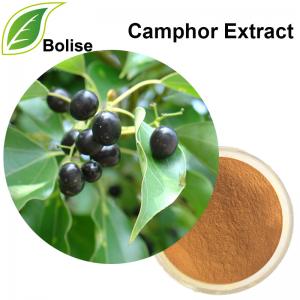 [ Botanical Name ] Cinnamomum camphora (L.) Presl.
[ Used Part ] Leaves
[ Specification ] 70%safrol
[ Detection method ]  HPLC
[ Extraction Soluvent ] Water
[ Appearance ] Brown Yellow fine powder
COA of Cinnamomum Camphora Extract
Loss on drying: 2.35%
Ash:  2.31%
Mesh Size: 100% pass 80 mesh
Ratio extract: 15:1
Heavy metal: ≤20ppm
As: ≤2.0ppm
Residual Pesticide: Negative
Total Plate Count: ≤100cfu / g
Yeast & Mold: ≤100cfu/ g
Salmonella: Negative
E. Coli: Negative
About Camphor Extract(Cinnamomum Camphora Extract)
Camphor is widely planted as a shade tree, screen, or windbreak. In China and Japan, it is grown commercially for its medicinal oil. Camphor oil has a strong penetrating fragrance, a pungent bitter flavor, and feels cool on the skin like menthol, though it also has irritating qualities as well as a numbing effect. Camphor has been used to treat ailments ranging from parasitic infections to toothaches. Scientific evidence has confirmed that chemicals in the plant have value in antiseptics and medications for treating diarrhea, inflammation, itching, and nervous conditions. Camphor wood is prized for its attractive red and yellow striping, amenability to woodworking, and insect repelling properties. It is light to medium in weight and soft to medium in hardness. Wood from the camphor tree is not especially strong, but it takes polishing well. It is commonly used for chests, closets, coffins, instruments, and sculptures. Camphor veneer is used in fine cabinetry. Camphor is also used in perfumes.
For more information of product, please send the email to bkherb@globals-globals.com


After send online enquiry, we will reply you as soon as possible, if not get any response on time please contact us by Tel or Email.This form is unable to receive your inquiry from aol, hotmail, gmail or others but company email address.
E-MAIL:bkherb@globals-globals.com
TEL: +86 592 536 5868
WHATSAPP: +86 189 6516 2351