Pricklyash Peel Extract (Zanthoxylum Bungeanum Extract)
Pricklyash Peel Extract (Zanthoxylum Bungeanum Extract)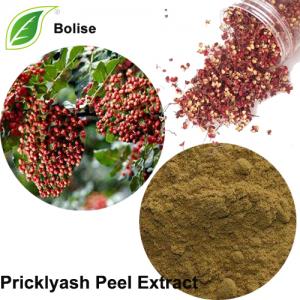 [ Specification ]    10:1, 20:1
[ Detection method ]  HPLC             
[ Botanical Name ]  Zanthoxylum bungeanum 
[About Zanthoxylum Husk Cream Extract ] 
 Zanthoxylum Husk Extract,  bark contains alkaloids (including chelerythrine, magnoflorine, nitidine and lauroflorine), pyranocoumarins (only in Z.americanum) including zanthyletin and zanthoxyletin; resin, tannin, acrid volatile oil
[ Characteristic ] 
It is sweet, bitter in flavour, it acts on the spleen, stomach and kidney channels.
[ Function ]
  1. Zanthoxylum may be used in the same way as Capsicum as a circulatory stimulant, although it is slower in action. 
  2. It may be used where there is poor circulation, for example, chilblains, leg cramps, varicose veins and varicose ulcers. 
  3. Zanthoxylum stimulates the salivary glands and mucous membranes, reduces colic and flatulence, and is strengthening to a debilitated digestion. 
  4. It is used in the treatment of chronic skin diseases and is locally counter-irritant. A liniment may be used to treat rheumatism and fibrositis. 
  5. The berries are often used for dyspepsia and indigestion.
For more information of product, please send the email to bkherb@globals-globals.com


After send online enquiry, we will reply you as soon as possible, if not get any response on time please contact us by Tel or Email.This form is unable to receive your inquiry from aol, hotmail, gmail or others but company email address.
E-MAIL:bkherb@globals-globals.com
TEL: +86 592 536 5868
WHATSAPP: +86 189 6516 2351