Bulbus fritillariae cirrhosae extract (Tendrilleaf Fritillary Bulb Extract)
Bulbus fritillariae cirrhosae extract (Tendrilleaf Fritillary Bulb Extract)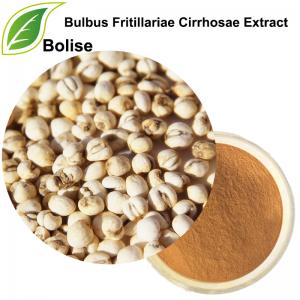 Specification: Fritimine,Minpeimine,Minpeiminine 
Detection method:HPLC
Botanical Name: Bulbus Fritillariae Uninbracteatae/Fritillaria cirrhosa D.Don/Fritillaria unibracteata Hsiao et K.C.Hsia/Fritillaria przewalskii Maxim/Fritillaria delavayi Ftanch
About Bulbus fritillariae cirrhosae:
Tendrilleaf Fritillary Bulb is the dried bulb of Fritillaria cirrhosa D. Don, Fritillaria unibracteata Hsiao et K. C. Hsia, Fritillaria przewalskii Maxim. or Fritillaria delavayi Franch. (Fam. Liliaceae). According to the different characters, the drug derived from the former three are known as "Songbei" and "Qingbei", respectively, and the drug derived from the latter is known as "Lubei".
Properties: chuan bei mu:mildly cold.sweet,bitter
                   zhe bei mu: bitter cold
Function: To remove heat, moisten the lung, resolve phlegm and relieve cough.
Indications: Dry cough due to heat in the lung; cough with bloody sputum in consumptive diseases.
Precaution: Incompatible with Radix Aconiti and allied drugs.
For more information of product, please send the email to bkherb@globals-globals.com


After send online enquiry, we will reply you as soon as possible, if not get any response on time please contact us by Tel or Email.This form is unable to receive your inquiry from aol, hotmail, gmail or others but company email address.
E-MAIL:bkherb@globals-globals.com
TEL: +86 592 536 5868
WHATSAPP: +86 189 6516 2351