Buckwheat Extract(Beech wheat extract)
Buckwheat Extract(Beech wheat extract)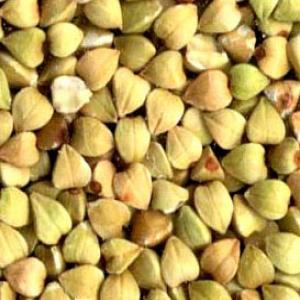 Specification: rutin, D-chiro-inositol
Detection method:HPLC
Botanical Name:   Fagopyrum esculentum Moench
About Buckwheat Extract:
The fruit is an achene, similar to sunflower seed, with a single seed inside a hard outer hull. The starchy endosperm is white and makes up most or all of buckwheat flour. The seed coat is green or tan, which darkens buckwheat flour. The hull is dark brown or black, and some may be included in buckwheat flour as dark specks. The dark flour is known as "blé noir" ("black wheat") in French, along with the name sarrasin ("saracen").
Medicinal uses:
Buckwheat contains rutin, a medicinal chemical that strengthens capillary walls, reducing hemorrhaging in people with high blood pressure and increasing microcirculation in people with chronic venous insufficiency. Dried buckwheat leaves for tea were manufactured in Europe under the brand name "Fagorutin."
Buckwheat contains D-chiro-inositol, a component of the secondary messenger pathway for insulin signal transduction found to be deficient in Type II diabetes and Polycystic Ovary Syndrome (PCOS). It is being studied for use in treating Type II diabetes. Research on D-chiro-inositol and PCOS has shown promising results.
A buckwheat protein has been found to bind cholesterol tightly. It is being studied for reducing plasma cholesterol in people with an excess of this compound.
For more information of product, please send the email to bkherb@globals-globals.com


After send online enquiry, we will reply you as soon as possible, if not get any response on time please contact us by Tel or Email.This form is unable to receive your inquiry from aol, hotmail, gmail or others but company email address.
E-MAIL:bkherb@globals-globals.com
TEL: +86 592 536 5868
WHATSAPP: +86 189 6516 2351