Borage Oil(Starflower Oil)
Borage Oil(Starflower Oil)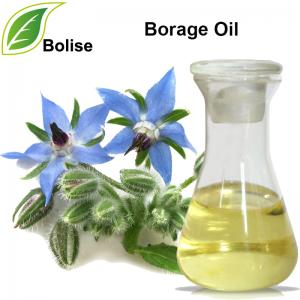 [ Botanical Name ] Borago officinalis
[ Parts Used ] Seed
[ Specification ]  GLA(gamma linolenic acid)
[ Detection method ] HPLC
[ Appearance ] Light yellow colored liquid
[ Solubility ]  Insoluble in water and soluble in hexane
[ Usage ] cosmetic and medical industry
COA of Borage Oil
POV: ≤3.0 meq/kg
AV:  ≤1.0 mgKOH/g
Palmitic acid:  9.0-13.0%
Stearic acid:  3.0-5.0%
Oleic acid:  14.0-20.0%
Linoleic acid:  34.0-45.0%
Gamma Linolenic acid:  ≥12.5%
Eicosenoic acid:  3.0-5.0%
Erucid acid: 1.0-4.0%
Others:  0.0-1.0%
About Borage Oil(Starflower Oil)
Borage Oil is a translucent yellow edible oil produced from Borage seed (Borago officinalis). The oil is used in supplements, dietetic foods, and cosmetics (skin solutions, ointments, creams, and shampoos).
Borage Oil naturally contains the highest quantity of the essential fatty acid, gamma linolenic acid (GLA), an Omega-6 essential fatty acid. GLA is normally synthesized in the liver from dietary linoleic acid (LA). This reaction, however is frequently deficient in many people because of interference by sugar, saturated fats, and trans-fatty acids (margarine). In addition the conversion requires Vitamins B-3, B-6, and C as well as the minerals, magnesium, zinc, and copper. Any deficiencies of these nutrients will affect the conversion. GLA is part of the Omega 6 series of essential fatty acids and is the critical precursor to the Series 1 prostaglandins (PGE1) and other hormones in the body. The PGE1 series prostaglandins along with the PGE3 series protect the body against the deleterious effects of PGE2 series prostaglandins, such as high blood pressure, sticky platelets, inflamation, water retention, and lowered immune function. The series 2 prostaglandins are made from arachidonic acid which is derived from consumption of excess animal products.    
For more information of product, please send the email to bkherb@globals-globals.com


After send online enquiry, we will reply you as soon as possible, if not get any response on time please contact us by Tel or Email.This form is unable to receive your inquiry from aol, hotmail, gmail or others but company email address.
E-MAIL:bkherb@globals-globals.com
TEL: +86 592 536 5868
WHATSAPP: +86 189 6516 2351