Bladder Wrack Extract (Seaweed Extract)
Bladder Wrack Extract (Seaweed Extract)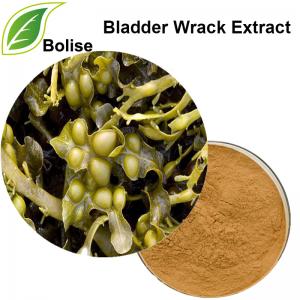 [ Botanical Name ] Fucus vesiculosus
[ Specification ] iodine, alginic acid, fucoidan.
[ Detection method ] HPLC 
[ Used Part ] Leaf
[ Appearance ]  Brown Fine powder
Functions of Seaweed Extract
1)  The RDA amount of iodine is believed to be necessary for maintenance of normal thyroid function in adults (infants and children need proportionally less).
2)  Alginic acid may help lower LDL ( cholesterol levels, according to animal studies. No human trials have studied this effect of bladderwrack. It is widely used in food and pharmaceuticals as a thickener and gelling agent.
3)  Fucoidan is another type of dietary fiber in bladderwrack that contains numerous sulfur groups. According to test tube and animal studies, this appears to give fucoidan several properties, such as lowering LDL cholesterol levels, lowering blood glucose levels, anti-inflammatory activity, possible anticoagulant effects, and antibacterial, and anti-HIV activity.
COA of Seaweed Extract
Loss on drying: 3.12%
Residue on Ignition: 2.96%
Mesh Size:  100% pass 80 mesh
Residual solvents: ≤0.05%
Fucoxanthin: 10.6%
Heavy metal: ≤20ppm
As: ≤0.5ppm
Pb: ≤0.5ppm
Cd: ≤0.5ppm
Residual Pesticide: Negative
Total Plate Count:  ≤1000cfu/g
Yeast & Mold:  ≤100cfu/g
Salmonella: Negative
E. Coli: Negative
About Bladder Wrack Extract (Seaweed Extract)
Bladderwrack is a type of brown algae (seaweed) that grows on the northern Atlantic and Pacific coasts of the United States and on the northern Atlantic coast and Baltic coast of Europe. The main stem of bladderwrack, known as the thallus, is used medicinally. The thallus has tough, air-filled pods or bladders to help the algae float—thus the name bladderwrack. 
[ Storage ]
Store in cool & dry place; Keep away from strong light and high heat.
[ Shelf life ]
24 months when properly stored
[ Package ]
Enterprise standard. Drums or cartons, 25kgs/drum(carton),2.5kg/bag, double vacuum plastic packing (vacuum sealed foil bags) inside.
For more information of product, please send the email to bkherb@globals-globals.com


After send online enquiry, we will reply you as soon as possible, if not get any response on time please contact us by Tel or Email.This form is unable to receive your inquiry from aol, hotmail, gmail or others but company email address.
E-MAIL:bkherb@globals-globals.com
TEL: +86 592 536 5868
WHATSAPP: +86 189 6516 2351