Black Garlic Extract Powder
Black Garlic Extract Powder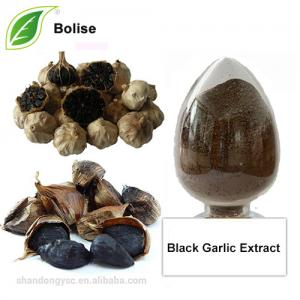 Specification: 10:1;4:1
Test Method: UV; HPLC
Botanical Name: Allium sativum L.
Appearance: Deep Brown Powder
Used Part: Seed
Active Ingredient: Black garlic polyphenols,Alliin
Function:
1. Can reduce blood sugar, blood fat and blood pressure;it is benefits for health;
2. Can protects liver and improves the activity of the prostate;
3. Improves constipation,eliminates fatigue and enhances physical strength;
4.can prevent the generation and accumulation of nitrosamine in stomach, and can resist and kill the growth of cancer cell;
About Black Garlic Extract Powder:
Garlic is beneficial in reducing blood cholesterol, triglycerides levels and systolic blood pressure in hypercholesterolemic rats. Garlic may beneficially affect two risk factors for atherosclerosis hyperlipidemia and hypertension.
Black Garlic Extract Powder is applied in health product industry and food industry,  is benefits for health.In black garlic extract powder fermentation process, the protein breaks down into amino acids, carbohydrates, especially allicin breaks into the odorless, low irritating and deoxidizing alliin, so the black garilc extract powder become black one.
For more information of product, please send the email to bkherb@globals-globals.com


After send online enquiry, we will reply you as soon as possible, if not get any response on time please contact us by Tel or Email.This form is unable to receive your inquiry from aol, hotmail, gmail or others but company email address.
E-MAIL:bkherb@globals-globals.com
TEL: +86 592 536 5868
WHATSAPP: +86 189 6516 2351