Beeswax Extract(Cera Flava Extract)
Beeswax Extract(Cera Flava Extract)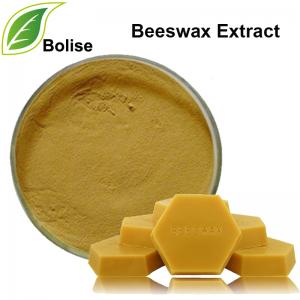 [ Specification ]  Myricyl palmitate80%
[ Detection method ]  HPLC
[ Botanical Name ]  Apis cerana Fabricius/Apis mellifera Linofilm 
[ Appearance ]  White or yellow,smooth,no impurities
COA of Beeswax Extract
Odour:  Honey flavor
Assay: 98.5%
Acid value: 6.0
Melting point: 62℃-66℃
Saponification value:  80~109
Iodine value: 8.0~13.0
Benzene insoluble: 0.4%
About Beeswax Extract(Cera Flava Extract)
Beeswax Extract is the wax seccreted by Apis cerana Fabricius or Apis mellifera Linofilm (Fam. Apidae).
Beeswax Extract is obtained from the honeycombs of bees after the honey has been removed by draining or centrifuging. The combs are melted with hot water, steam or solar heat; the melted product is filtered and cast into cakes of yellow beeswax.Beeswax is a major bee product and can be used in various ways.  Industrially it is used in cosmetics, pharmaceuticals and textiles.  Other uses include beekeeping industry, candle making and leather industry.  
Functions: To arrest discharges, promote healing of wounds and tissue regeneration, and alleviate pain.
Indications: Ulcer difficulty to heal, wounds, burns and scalds.
Usage: For external use, appropriate quantity to be melted and applied topically; often used as excipient and ground substanse of ointments.
For more information of product, please send the email to bkherb@globals-globals.com


After send online enquiry, we will reply you as soon as possible, if not get any response on time please contact us by Tel or Email.This form is unable to receive your inquiry from aol, hotmail, gmail or others but company email address.
E-MAIL:bkherb@globals-globals.com
TEL: +86 592 536 5868
WHATSAPP: +86 189 6516 2351