Bee pollen (Bee bread)
Bee pollen (Bee bread)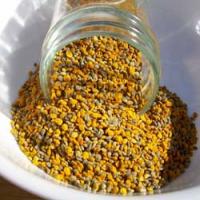 About Bee pollen:
Bee pollen is the pollinarium brought back by bees when they are collecting honey. It is the pollen formed in honeycomb through storage and ferment.Bee pollen extract has many uses and is very useful in the maintaining of health in human beings as well as dogs.Bee Pollen Extract can be used in health food, beverage, cosmetic, especially as the functional additive in solid beverage or liquid beverage. 
Bee bread is used in naturopathic medicine traditions and as a nutritional supplement, although exposure may trigger allergic or anaphylactic reactions in sensitive people.
For more information of product, please send the email to bkherb@globals-globals.com


After send online enquiry, we will reply you as soon as possible, if not get any response on time please contact us by Tel or Email.This form is unable to receive your inquiry from aol, hotmail, gmail or others but company email address.
E-MAIL:bkherb@globals-globals.com
TEL: +86 592 536 5868
WHATSAPP: +86 189 6516 2351