Bee Pollen Powder (Bee Bread)
Bee Pollen Powder (Bee Bread)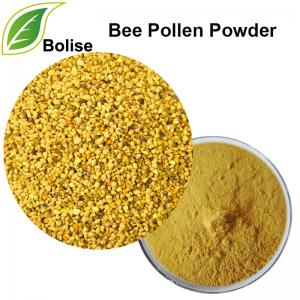 [ Appearance ]  Yellow fine powder
[ Active Ingredient ] Amino Acid, Vitamin, Mineral, Enzyme&Peptid
Function of Bee pollen (Bee bread)
1. Strong antioxidant capacity, as natural antioxidants, can scavenge free radicals;
2. anti-tumor, inhibition of capillary split lesion sites;
3. improve cardiovascular circulation;
4. anti-radiation, prevention of skin cancer.
Application of Bee pollen (Bee bread)
1. Cure for constipation
2. Maintain bone health and vitality
3. Generate a sense of satiety
4. A beauty-conscious people, rough skin persons; 
5. Menopausal women; 
6. Prostatic hypertrophy, middle-aged men; 
7. Neurasthenia, work pressure, fatigue persons; 
8. Ehronic gastritis, gastrointestinal disorders;
COA of Bee Pollen Powder
Loss on drying: 3.44%
Ash: 3.12%
Mesh Side: 100% pass 80 mesh
Protein: 26.11%
Moisture: 7.21%
Heavy metal: ≤10ppm
As: ≤3.0ppm
Residual Pesticide: Negative
Total Plate Count: ≤1000cfu/g
Yeast & Mold:  ≤100cfu/g
Salmonella: Negative
E. Coli:  Negative
About Bee Pollen Powder(Bee bread)
Bee Pollen is one of the richest and purest natural foods, and is believed to be of great nutritional and medicinal value. 
Bee pollen is the pollinarium brought back by bees when they are collecting honey. It is the pollen formed in honeycomb through storage and ferment.Bee pollen contains vitamins, minerals, carbohydrates, lipids, and protein. It comes from the pollen that collects on the bodies of bees. Bee pollen may also include bee saliva.
Bee pollen extract has many uses and is very useful in the maintaining of health in human beings as well as dogs.Bee Pollen Extract can be used in health food, beverage, cosmetic, especially as the functional additive in solid beverage or liquid beverage. 
Bee bread is used in naturopathic medicine traditions and as a nutritional supplement, although exposure may trigger allergic or anaphylactic reactions in sensitive people.
[ Storage ]
Store in cool & dry place; Keep away from strong light and high heat.
[ Shelf life ]
24 months when properly stored
[ Package ]
Enterprise standard. Drums or cartons, 25kgs/drum(carton),2.5kg/bag, double vacuum plastic packing (vacuum sealed foil bags) inside.
For more information of product, please send the email to bkherb@globals-globals.com


After send online enquiry, we will reply you as soon as possible, if not get any response on time please contact us by Tel or Email.This form is unable to receive your inquiry from aol, hotmail, gmail or others but company email address.
E-MAIL:bkherb@globals-globals.com
TEL: +86 592 536 5868
WHATSAPP: +86 189 6516 2351