Asiatic Cornelian Cherry Fruit Extract(Fructus corni extract)
Asiatic Cornelian Cherry Fruit Extract(Fructus corni extract)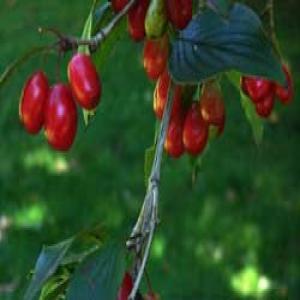 Specification:  morroniside,sweroside,cornus tannin
Detection method: HPLC
Botanical Name:  Cornus officinalis Sieb. et Zucc.
About Asiatic Cornelian Cherry Fruit Extract:
Asiatic Cornelian Cherry Fruit is the dried ripe sarcocarp of Cornus officinalis Sieb.et Zucc. (Fam.Cornaceae).Asiatic Cornelian Cherry Fruit Extract has been used for at least 2,000 years in Chinese herbal medicine. It is a herb that "stabilizes and binds" and is used principally to reduce heavy menstrual bleeding and unusually active secretions including copious sweating, excessive urine, spermatorrhoea and premature ejaculation. Like all herbs that suppress bodily fluids (even excessive ones), it will simply prolong or lead to a worsening of symptoms if it is used without tonic or detoxifying herbs. It is, therefore, normally used in combination with herbs such as Rehmannia glutinosa and is an ingredient of the "Pill of eight ingredients" which is used in China to "warm up and invigorate the yang of the loins".
Action: To replenish the liver and kidney, restrain seminal discharge and relieve collapse.
Indications: Dizziness, tinnitus, soreness in the loins and knees, impotence, seminal emission, enuresis, frequency of urination, excessive uterine bleeding and leukorrhea; collapse with profuse sweating diabetes.
For more information of product, please send the email to bkherb@globals-globals.com


After send online enquiry, we will reply you as soon as possible, if not get any response on time please contact us by Tel or Email.This form is unable to receive your inquiry from aol, hotmail, gmail or others but company email address.
E-MAIL:bkherb@globals-globals.com
TEL: +86 592 536 5868
WHATSAPP: +86 189 6516 2351