Argy Wormwood Leaf Extract(Folium Artemisiae Argyi Extract)
Argy Wormwood Leaf Extract(Folium Artemisiae Argyi Extract)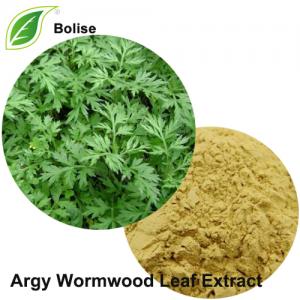 [ Botanical Name ]  Artemisia argyi Levl. et Vant.
[ Specification ] 10:1  20:1 
[ Detection method ] HPLC 
[ Used Parts ]  Leaf
[ Family ]  Asteraceae
[ Appearance ] Brown yellow powder
[ Pharmacological functions ]
1. Stimulate the gastrointestinal tract secretion of digestive juices, promote digest, stomachic;
2. Hemostatic effect, to lower the capillary permeability, fight fibrinolysis;
3. Antibacterial antiviral action and allergy effect;
4. Protecting liver, cholagogue function,reduce transaminase role;
5. Eliminating phlegm to smooth wheezing;
[ Applications ]
Pharmaceutical raw materials,Health food,Foodadditives
About Argy Wormwood Leaf Extract(Folium Artemisiae Argyi Extract)
Argy Wormwood Leaf is the dired leaf of Artemisia argyi Levl.et vant. (Fam. Compositae).
Argy wormwood leaf extract contains volatile oil, oil mainlyⅠ, 8 - eucalyptus leaves fine,α-thujone (α-thujone),α-phellandrene (α-PHellandrene),β-caryophyllene (β-caryoPHyllene), camphene, camphor, caraway ketone, trans reed alcohol (transcarveol),Ⅰ-α-terpineol (Ⅰ-α-terpineol).
Functions: To dispel cold, relieve pain, and arrest bleeding.
Folium Artemisiae argyi (carbonized and processed with vinegar): To arrest excessive menstrual discharge.
Indications: Pian in the lower abdomen with cold sensation; menstrual disorders of cold type; infertility; spitting of blood, epistaxis, uterine bleeding in pregnancy, excessive menstrual flow; external use for itching.
Folium Artemisiae argyi (carbonized and processed with vinegar): Excessive menstrual flow of deficiency-cold type.
For more information of product, please send the email to bkherb@globals-globals.com


After send online enquiry, we will reply you as soon as possible, if not get any response on time please contact us by Tel or Email.This form is unable to receive your inquiry from aol, hotmail, gmail or others but company email address.
E-MAIL:bkherb@globals-globals.com
TEL: +86 592 536 5868
WHATSAPP: +86 189 6516 2351