American Ginseng Root Extract
American Ginseng Root Extract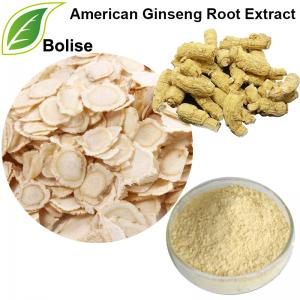 [ Botanical Name ] Panax quinquefolius L.
[ Specification ]   30%ginsenosides  
[ Detection method ] HPLC 
[ Used Part ] Root
[ Appearance ]  Light yellow powder
[ Grade ] pharmaceutical grade&food grade 
[ Extraction Type ]Solvent Extraction 
[ Application ]
strengthen the function of the central nervous system;protect the cardiovascular system;enhance immunity;promote the blood;the treatment of diabetes
Pharmacological Function of American Ginseng Extract
1) For the central nervous system: Calming, promoting nerve growing, anti-convulsion & labor pains; Anti-febrile. 
2) For the cardiovascular system: Anti- cardiac arrythmia & ischemia myocardial. 
3)For the blood system: Anti-hemolysis; Stopping bleeding; Bringing down blood coagulability; Restraining blood platelets clotting; Regulating blood-FAT; Anti- atherosclerosis; Bringing down blood sugar. 
4) For the modulation: Anti-fatigues; Anti- oxygen & blood deficit; Anti-shock; Anti-thirst. 
5) For immunity system: Improving achroacyte conversion; Inducing immune factor growing; Strengthening immunity. 
6) For the incretion system: Inducing serum proteins, bone marrow proteins, organ proteins, brain proteins, FAT, stem cells proteins synthesis; Inducing FAT and sugar metabolism. 
7) For the urinary system: Antidiuresis.  
COA of American Ginseng Extract
Loss on drying: 3.15%
Ash: 2.65%
Mesh Size: 100% pass 80 mesh
Ginsenosides:  21.6% 
Heavy metal: ≤20ppm
As: ≤2.0ppm
Residual Pesticide: Negative
Total Plate Count: ≤1000cfu/g
Yeast & Mold : ≤100cfu/g
Salmonella: Negative
E. Coli: Negative
About American Ginseng Root Extract
Panax quinquefolius, commonly known as American Ginseng and often by its Chinese name Huaqishen or Xiyangshen.
Like Panax ginseng, American ginseng contains dammarane type ginsenosides as the major biologically active constituents. Dammarane type ginsenosides includes 2 classifications: the 20(S)-protopanaxadiol [ppd] and 20(S)-protopanaxatriol [ppt] classifications. American ginseng contains high levels of Rb1, Rd (ppd classification) and Re (ppt classification) ginsenosides—higher than that of P. ginseng in one study. 
For more information of product, please send the email to bkherb@globals-globals.com


After send online enquiry, we will reply you as soon as possible, if not get any response on time please contact us by Tel or Email.This form is unable to receive your inquiry from aol, hotmail, gmail or others but company email address.
E-MAIL:bkherb@globals-globals.com
TEL: +86 592 536 5868
WHATSAPP: +86 189 6516 2351