Aloe Vera Extract
Aloe Vera Extract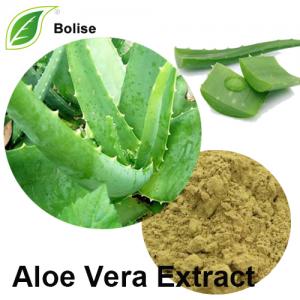 [ Botanical Name ]  Aloe vera(L.) Burm.f
[ Specification ] 10:1   20:1
[ Detection methods ]  HPLC
[ Used Part] Leaf
[ Appearance] Brown Fine Powder
[ Extract Ratio ] 20:1; 200:1; 5:1
COA of Aloe Vera Extract
Loss on drying:2.31%
Ash:2.26%
Mesh Size:100% pass 80 mesh    
Aloin:Negative
Heavy metal:≤20ppm
As:≤2.0ppm
Residual Pesticide:Negative
Total Plate Count: ≤1000cfu/g
Yeast & Mold: ≤100cfu/g
Salmonella: Negative
E. Coli: Negative
About Aloe Vera Extract
Aloe vera is considered as the oldest medicinal plants which are known to mankind. Many countries such as India, China, Rome, Greece and Egypt are using aloe vera extract from many years as a natural herbal and safe remedy used for various purposes like to treat skin problems, for beauty regimes, to heal internal and external ailments and to heal wounds.
The extract of aloe vera plant and its other products played an important role in medicine and health care. Aloe vera extract is organically processed and is available in many forms like av gx ex 01. It is extracted without any form of processing and derived naturally. A powerful blend of aloe vera herbal extracts supports the body¡¯s defence mechanisms.
Aloe vera extract is used by those patients suffering from irritable bowel and gastritis problems and provides positive results. The extract of aloe vera is also used to stimulate the immune system and decreases the allergy symptoms and respiratory infections. When the aloe vera gel is used along with the aloe vera extract and injected into the human bloodstream, it diffuses the capabilities of red blood cells and multiplies the oxygen transportation.
The patients who have lost a large amount of blood in the battlefield they can be injected a small amount of aloe vera extract taken out from the aloe vera plant which also helps in healing their wounds. The extract which is given through the bloodstream quickly dissolves in it and multiplies the effectiveness of the blood in the body of a person.
Aloe vera extract is made up by grinding the whole leaves of the aloe vera plant.
[ Storage ] store in cool and dry place.keep away from strong light and heat.
[ Shelf life ]  24 months.
For more information of product, please send the email to bkherb@globals-globals.com


After send online enquiry, we will reply you as soon as possible, if not get any response on time please contact us by Tel or Email.This form is unable to receive your inquiry from aol, hotmail, gmail or others but company email address.
E-MAIL:bkherb@globals-globals.com
TEL: +86 592 536 5868
WHATSAPP: +86 189 6516 2351