Almond Extract
Almond Extract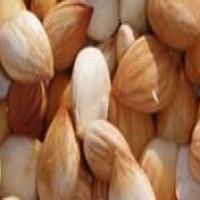 [Specification]  Amygdalin 50%~98%
[Detection methods]      HPLC
[Botanical Name ]    Prunus dulcis(Mill.) D.A.Webb
[About Almond] 
  Almond extract, among the baking extracts, is second only to vanilla in popularity. Strong, sweet, clear, and pure in flavor. If you've ever been to one of our wonderful local Scandinavian bakeries, you will find this is the predominant flavor in nearly all the baked goods. Use in small amounts (usually 1/2 teaspoon per batch) to flavor cookies, bars, bread, cheesecake, marzipan and crackers. Also, traditionally used for Middle Eastern meat stews, Indian sweet rice pudding, and mild curry. Add just a drop to sweeten waffles or French toast. Excellent with fruit for pie or muffins.
  Besides,Almond extract, a flavoring, is made by dissolving the essential oil of almonds in an alcohol base. Use products labeled "pure" or "natural" almond extract.For other flavorings, see anise, coconut, coffee, maple, peppermint, and vanilla extracts.
  What is the difference between almond extract and almond essence?   
  Almond extract is a pure, natural product made from the oil of bitter almonds and it has a good flavor. However, the price is higher due to its quality. As for almond essense, it is made using artificial flavorings and is therefore much cheaper compared to almond extract. When cooking, it is worth the effort of seeking out almond extract in good delicatessens, health food shops and the larger branches of supermarkets. Whichever you decided to use, for the best results, always add cautiously.
For more information of product, please send the email to bkherb@globals-globals.com


After send online enquiry, we will reply you as soon as possible, if not get any response on time please contact us by Tel or Email.This form is unable to receive your inquiry from aol, hotmail, gmail or others but company email address.
E-MAIL:bkherb@globals-globals.com
TEL: +86 592 536 5868
WHATSAPP: +86 189 6516 2351