Agrimony Extract
Agrimony Extract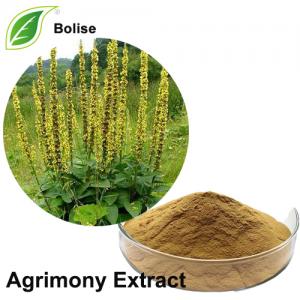 [ Specification ]   agrimophol,agrimonolide
[ Detection methods ]        HPLC
[ Botanical Name ]  Agrimonia eupatoria L
[ Used Part ]  Whole herb
[ Appearance ]  Brown Fine Powder
COA of Agrimony Extract
Loss on drying: 2.35%
Ash: 2.14%
Mesh Size: 95% pass 100 mesh
Ratio extract:  10:1
Heavy metal:  ≤20ppm
As: ≤2.0ppm
Residue on ignition:  ≤5.0%
Residual Pesticide: ≤2ppm
Total Plate Count: ≤1000cfu/g
Yeast & Mold:  ≤100cfu/g
Salmonella: Negative
E. Coli: Negative
About Agrimony Extract
Agrimony extract has a long history behind it. It was always used as a domestic medicinal herb by many of those who live in the country. The Agrimony extract is part of the rose family, and it is in bloom from June to September. This herb has beautiful leaves which add to its beauty. 
This plant grows close to the ground. There are also flowers that grow closely together on.its little branches. What¡¯s more, this herbal plant has a sweet smell that is of apricots which makes it enjoyable to many. 
During the Middle Ages, this herb was used by the Anglo-Saxon peoples for the healing of  wounds and sores. They also used this herb as part of their ritual rites. It was believed that if a man put the herb beneath his head, he¡¯d be induced into deep sleep.
Some writers also have said that it is quite useful for curing jaundice. The way it works is, the crown of a root is placed into boiling water. A half a pint six times a day is the prescribed dose.
In North America, it was used to treat fever by the Canadians and the Native Americans. They had great success when using the herb for that purpose. Additionally, it has been used o treat diseases of the blood and skin. The leaves and roots are sweetened with honey or sugar so as to be tolerated and administered two to three times a day. Doses are the size of a full wineglass.
Today, the herb is used to treat diarrhea, relaxed bowels, sore throats, and passive blood  loss. For these treatments, a handful of the leaves or stems is dumped into a pint of boiling water. This solution can be gargled for the easing of a sore throat, and a teacup full, taken cold, three to four times a day, to get rid of diarrhea or help with the passive blood loss. And, though this herb is not yet fully appreciated by today¡¯s modern medicine, it is appreciated by many for its many virtues.
Besides,Agrimony is a flower essence suggested for individuals who mask inner torment, anxieties, and worries behind a brave face; hate to be alone; avoid confronting their issues; and may suffer from insomnia accompanied by churning thoughts.
Dilute two drops of Agrimony in a glass of water and sip at intervals. Replenish as  neccessary.For multiple use, add two drops of Agrimony to a 30ml mixing bottle (you may combine up to seven remedies in this bottle), top up with mineral water and take four drops at least four times a day.
If neccessary, the Bach Original Flower Remedies can be dropped neat onto the tongue, or rubbed onto the lips, behind the ears, or on the temples and wrists.You can take Bach Original Flower Remedies as often as you want. If you are in a mood or a bit of a crisis, you only may need one dose, but if you've been feeling the same way for some time you can take them as long as you need to.
[ Storage ] store in cool and dry place.keep away from strong light and heat.
[ Shelf life ] 24 months.
For more information of product, please send the email to bkherb@globals-globals.com


After send online enquiry, we will reply you as soon as possible, if not get any response on time please contact us by Tel or Email.This form is unable to receive your inquiry from aol, hotmail, gmail or others but company email address.
E-MAIL:bkherb@globals-globals.com
TEL: +86 592 536 5868
WHATSAPP: +86 189 6516 2351