Agaricus Blazei Mushroom Extract
Agaricus Blazei Mushroom Extract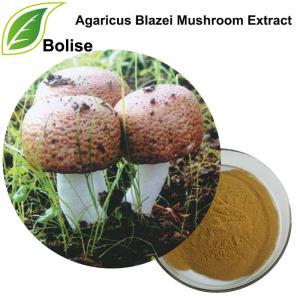 [ Botanical Name ]  Agaricus blazei murrill
[ Used Part ] Fruiting body
[ Detection method ] HPLC
[ Appearance ] Yellow Brown Powder
[ Active Ingredient ] Polysaccharides,Beta Glucan
COA of Agaricus Blazei Mushroom Extract
Loss on drying: ≤5.0%
Mesh Side: 100% pass 80 mesh
Polysaccharide: 50%
Heavy metal: ≤10ppm
As: ≤0.5ppm
Pb: ≤0.5ppm
Cd: ≤0.5ppm
Residual Pesticide: Negative
Total Plate Count: ≤1000cfu/g
Yeast & Mold: ≤100cfu/g
Salmonella: Negative
E. Coli: Negative
About Agaricus Blazei Mushroom Extract
The Agaricus blazei mushroom contains a specific polysaccharide called beta glucan. The beta-D-glucan and other polysaccharides specifically activate the immune system's cells (such as macrophages, interferon, T cells, and natural killer cells) in order to prevent the multiplication, metastasis (spreading) of tumors.
Indications:
People with an impaired or suppressed immune system from any cause. 
People with a high occurrence of infectious diseases, including colds and flu. 
People with allergies or skin conditions, including skin cancer. 
People undergoing chemotherapy and/or radiation. 
People over the age of 40 when the immune system starts to slow down due to the natural aging process. 
People affected by extra free radical production from external sources such as UV radiation, electromagnetic fields, poor nutritional habits and toxic chemicals. 
People with chronic diseases such as diabetes, chronic inflammation and chronic fatigue. 
Professional and amateur athletes, or anyone who works out intensively. 
People under severe physical or emotional stress.
[ Storage ]
Store in cool & dry place; Keep away from strong light and high heat.
[ Shelf life ]
24 months when properly stored
[ Package ]
Enterprise standard. Drums or cartons, 25kgs/drum(carton),2.5kg/bag, double vacuum plastic packing (vacuum sealed foil bags) inside.
For more information of product, please send the email to bkherb@globals-globals.com


After send online enquiry, we will reply you as soon as possible, if not get any response on time please contact us by Tel or Email.This form is unable to receive your inquiry from aol, hotmail, gmail or others but company email address.
E-MAIL:bkherb@globals-globals.com
TEL: +86 592 536 5868
WHATSAPP: +86 189 6516 2351