OEM of Royal Jelly Softgel 1000mg
OEM of Royal Jelly Softgel 1000mg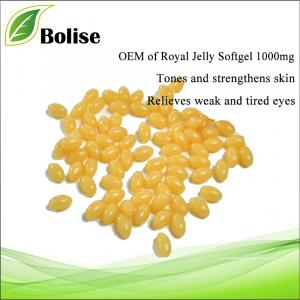 [ Specification ] 1000mg
[ Function ]   Lowering Blood Pressure
[ Packaging ] Box
[ Service Provide ]
Features
Royal jelly is a nutritional supplement made in the beehive and is the only food for the queen bee. It is rich in nutrients and contains the active ingredients of 10 types of HDA (10 types of Hydroxy-2 decenoic acid). HDA is an important active ingredient used to determine the strength and efficacy of royal jelly. Royal jelly contains vitamins A and C, potassium, sodium iron, chromium and manganese and 20 amino acids.
Main function
1.Strengthening skin; 
2.Relieving weakness and tireness of eyes;
3.Combating the aging process;
4.Improving memory;
5.Aiding restful sleep;
6.Helping against impotence in men and infertility in women.

After send online enquiry, we will reply you as soon as possible, if not get any response on time please contact us by Tel or Email.
Welcome to Bolise Co., Ltd.
1. E-mail: [email protected]
2. Tel: +86 592 536 5868
Working Time: 8:30--18:00, Monday--Friday
For more information of product, please send the email to [email protected]

1. Send Message to US ->
2. Confirm Product Information ->
3. Order & Payment->
4. Packaging&Shipping->
Our products have been certificated with the ISO certificate, free sample is available.
CGMP Manufacturer to ensure the quality stable and reliable.
All of our ingredients meet strict quality and food safety standards, and surpass industry standards for purity and cleanliness.
We are committed to meeting customers' unique needs by providing comprehensive and professional service, enjoying a good reputation among our business partners and customers for high-quality products, excellent after-sales services, competitive prices, and prompt shipping.
Highly welcome friends from all over the world to contact us. We will reply to you as soon as possible, ​after sending an online inquiry. And please feel free to call us if any urgent inquiry or without getting response from us in time.