OEM of Optimal Anti Aging & Immunity Improving Royal Jelly Softgel
OEM of Optimal Anti Aging & Immunity Improving Royal Jelly Softgel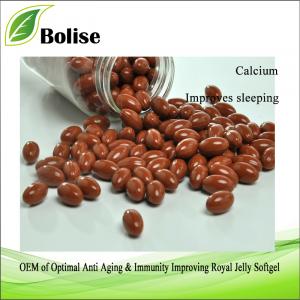 [ Specification: ] 500mg
[ Packaging: ] Bottle Carton
[ Production time ] 25 Days
[ Delivery Detail ] Within 30 days after order confirmation
[ Description:  ]
Features
1. Anti-aging, it is rich in vitamins and proteins, also contains SOD enzyme, is a precious beauty product, long-term use can make the skin ruddy, shiny
2. Improve sleep;
3. Taking royal jelly scientifically has a significant effect on atrophic gastritis, postoperative recovery, ulcers, and liver disease;
4. Improve human immunity
5. Prevent cardiovascular disease and improve anemia;
6. Anti-inflammatory, analgesic and promote wound healing;
7. Promote tissue regeneration, delay the decline of endocrine glands, regulate endocrine function, and help improve menopausal syndrome.

After send online enquiry, we will reply you as soon as possible, if not get any response on time please contact us by Tel or Email.
Welcome to Bolise Co., Ltd.
1. E-mail: [email protected]
2. Tel: +86 592 536 5868
Working Time: 8:30--18:00, Monday--Friday
For more information of product, please send the email to [email protected]

1. Send Message to US ->
2. Confirm Product Information ->
3. Order & Payment->
4. Packaging&Shipping->
Our products have been certificated with the ISO certificate, free sample is available.
CGMP Manufacturer to ensure the quality stable and reliable.
All of our ingredients meet strict quality and food safety standards, and surpass industry standards for purity and cleanliness.
We are committed to meeting customers' unique needs by providing comprehensive and professional service, enjoying a good reputation among our business partners and customers for high-quality products, excellent after-sales services, competitive prices, and prompt shipping.
Highly welcome friends from all over the world to contact us. We will reply to you as soon as possible, ​after sending an online inquiry. And please feel free to call us if any urgent inquiry or without getting response from us in time.