OEM of Hot-selling Dietary Supplement Pumpkin Seed Oil Capsule
OEM of Hot-selling Dietary Supplement Pumpkin Seed Oil Capsule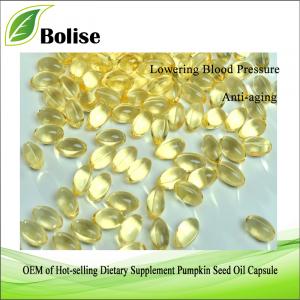 [Specification:]500mg
[Packaging:] 6000pcs per bag, 15000pcs per bag in bulk packaging
[Function]Lowering Blood Pressure
[Production time] 25 Days
[Delivery Detail] Within 30 days after order confirmation
[Description: ]
Pumpkin seed oil is rich in unsaturated fatty acids such as linolenic acid and linoleic acid. In addition, pumpkin seed oil also contains plant sterols, amino acids, vitamins, minerals and various biologically active substances, especially zinc, magnesium, calcium, and phosphorus. Pumpkin seed oil also contains an active biocatalyst that can be called androgens, which can eliminate the early swelling of the prostate and has a good preventive effect on the treatment of urinary tract and prostate hyperplasia.
Functions:
Lowering blood pressure 
Lowering blood glucose  
Lowering blood lipid 
Preventing the male prostate disease 
Preventing arteriosclerosis
For more information of product, please send the email to [email protected]


After send online enquiry, we will reply you as soon as possible, if not get any response on time please contact us by Tel or Email.This form is unable to receive your inquiry from aol, hotmail, gmail or others but company email address.
E-MAIL:[email protected]
TEL: +86 592 536 5868
WHATSAPP: +86 189 6516 2351