Hot-selling Olive Oil Softgel GMP Certified
Hot-selling Olive Oil Softgel GMP Certified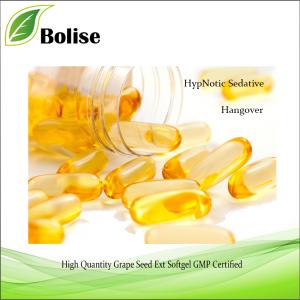 [ Specification ] 300mg, 500mg, 750mg, 1000mg
[ Function ]   Hangover, HypNotic Sedative
[ Packaging ] Box
[ Service Provide ]
Olive oil has a long history as a herbal supplement, and olive oil has been passed down from generation to generation for medical and health reasons. Olive oil is extracted from the olive fruit "European olives". The health benefits of olive oil are unparalleled, and research has shown that there are more benefits almost every day. In fact, we are only just beginning to understand the myriad ways in which olive oil can improve our health and life. Olive oil is the cornerstone of the Mediterranean diet and it is the nutritional pillar necessary for the longest-lived culture in the world. Weihai Baihe Olive Oil Soft Capsules are made in strict accordance with strict production processes and carefully selected ingredients, meeting the highest quality standards.
Features:
• Improving immunity
• Natural antioxidants
• Supporting gastrointestinal and urinary tract health
• Improving heart health
•Lowering blood pressure
• Promoting hair and skin health
• Reducing the risk of cancer
• Prevention of osteoporosis
• Improving digestive health
For more information of product, please send the email to sales@boliseco.com


After send online enquiry, we will reply you as soon as possible, if not get any response on time please contact us by Tel or Email.This form is unable to receive your inquiry from aol, hotmail, gmail or others but company email address.
E-MAIL:sales@boliseco.com
TEL: +86 592 536 5868
WHATSAPP: +86 189 6516 2351