Benefits of Aloe Vera to the Skin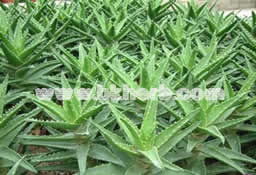 Aloe vera plants are the members of lily plants and look more like a cactus and are described as succulents. The ancient Egyptians were the first people who use aloe vera for healing the wounds. Hundreds of varieties of aloe vera are available but only few of them have healing properties. Various products are manufactured from the gel which is obtained from the leaves of the aloe vera plant. 
The most common benefits of aloe vera gel are that it is used in making various topical creams and useful in keeping the skin healthy and moisturizing dry skin. Aloe vera contains burn healing effects, anti-inflammatory properties, scar reducing properties and wounds.
     Benefits of Aloe Vera to the Skin
     Aloe vera provides numerous benefits to the skin and they are:
Aloe vera is beneficial for cracked and dry skin.
Aloe vera is helpful for frostbite, burns, insect bites, blisters and allergic reactions.
All the aloe vera products are used as a part of skin treatment regimen and keep the skin healthy.
Aloe vera products contain the highest concentrations of healing agent which is beneficial for the skin.
It makes the skin smooth and glowing.
Aloe vera oil can be used on the dry skin to make the skin normal and shiny.
Aloe vera is used for treating various skin conditions such as eczema, burns, psoriasis, inflammations, wounds etc.
It is an excellent skin moisturizer that keeps the skin flexible by giving oxygen to the cells which in turn increases the strength and synthesis of skin tissue.
The products of aloe vera are very popular among the customers due to the moisturizing properties which are best for the skin or skin disorders.
Aloe vera improves the ability of the skin so that it can hydrate itself.
It is helpful in removing dead skin cells and has the ability for effective penetration and transports healthy substances through the skin.
It is beneficial for the cosmetic products such as make up, anti-wrinkle creams, facial masks, skin conditioners and lipsticks.
Aloe vera is useful for preventing the aging of the skin.
Aloe vera gel is helpful in improving the lesions.
It lightens dark spots on the face and reduces the intensity of pigmentation.
       So, aloe vera provides various benefits not only to the skin but other benefits also such as in the treatment of various diseases and is also beneficial for other purposes.