White Lily Extract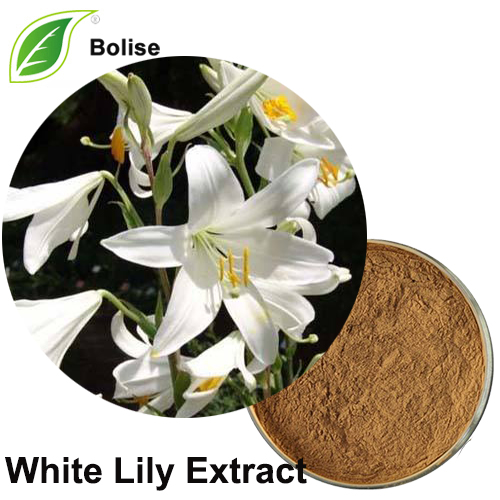 [ Products Name ] White Lily Extract,Lily Bulb Extract
[ Botanical Name ] Lilium Brownii
[ Specification ] 10:1,20:1 
[ Detection method ] HPLC
[ Origin ] Bulbs and flowers of the White Lily plant
[ Parts used ] Bulb
[ Appearance] Brown Powder
[ Properties of white lily ]
It is an astringent mucilaginous herb that heals damaged and irritated skin and tissue
[ Main ingredient ] 
vanillin, flavonoids, pyrrolic alkaloids, and amino acids, such as g-methylene glutamic acid, and tannins
[ About White Lily Extract ]
White lily is a perennial plant growing up to 60-150 cm in height. It is a bulb species with large scaly white bulbs, about 1 m tall stalks, and linear leaves; some leaves attached to the base of the stalk, spreading around it, other leaves erect, lanceolate, with slightly dentate margins.
[ COA of White Lily Extract ]
Loss on drying: 2.20%
Ash: 2.36%
Mesh Side: 100% pass 80 mesh
Ratio extract:  20:1
Heavy metal: ≤10ppm
As: ≤2.0ppm
Cadmium: ≤1.0ppm
Lead: ≤2.0ppm
Residual Pesticide: ≤2ppm
Total Plate Count:  ≤1000cfu/g
Yeast & Mold:  ≤100cfu/g
Salmonella:  Negative
E. Coli:  Negative
[ Function ]
1.White Lily Extract has a moisturising and regenerating action, and makes your skin wonderfully smooth and soft
2.White Lily Extract has been found to inhibit tumour growth in laboratory tests. Lily extract shrinks pancreas, stomach tumours. It could be used to target some of the cancers that are currently most difficult to treat. 
   If you want to learn more about White Lily Extract information, welcome to contact us!