Synephrine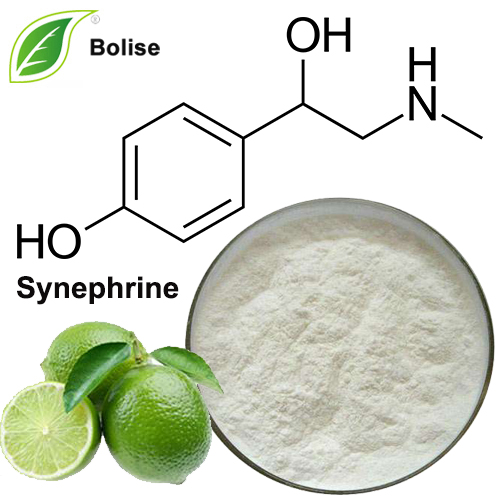 [ Specification ] 98% Synephrine
[ Detection method ]   HPLC
[ Botanical Name ]  Citrus aurantium L.
[ CAS Number ] 94-07-5 
[ Molecular Formula ] C9H13NO2
[ Molecular Weight ] 167.20   
[ Appearance ] colorless solid
[ About Synephrine ]
Synephrine is the main "active" compound found in the fruit of a plant called Citrus aurantium. The fruit is also known as zhi shi (in traditional Chinese medicine), and as green orange, sour orange and bitter orange in other parts of the world. It has strong aroma. It tastes bitter at first, and then a little acid. In application of traditional Chinese medical science, it is used to dispel bloating and a lump in the abdomen and phlegm, and to cureedema, constipation, gastroptosis, prolapse of uterus and rectocele.Anti- tumour, prevent osteoporosis, reduce cholesterin and protect heart.
Nerve protection and prevent diseases of degeneration of nerve.Relieve menopausal symptoms of women, improve bone metabolism and protect cardiovascular system, etc.
[ Pharmacology function ]
There are stronger expansion tracheas and function of the bronchus. It is the natural excitant in the 21st century, there are not any side effect and positive reaction, is used in health care trades, such as medicine, food, beverage, etc. extensively, formate forbidding of medicine with chemistry, hard the demand and value of the forest will double.
   If you want to learn more about Synephrine information, welcome to contact us!