Saw Palmetto Extract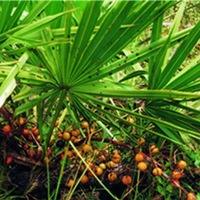 [ Products Name ]  Saw Palmetto Extract,Plantago lanceolata
[  About Saw palmetto ]
  Saw palmetto is extracted from the berries that come from dwarf palm trees, generally found in coastal regions of Florida (the largest producer of saw palmetto), but does grow in other places like South Carolina, Georgia, Mississippi, Texas and Mexico. Mostly wanted for the ability to return sexual function to aging men. Saw Palmetto has become one of the most sought after diet supplements in the industry.
[ Botanical name ]  Serenoa repens (bartram)
[ small Family ]   Palmae
[ Specification ] 45% fatty acid HPLC
[ Major Benefits  ]  Saw Palmetto is traditionally used as a hormonal modulator. The fatty acids in saw palmetto''s berries that contain variety of phytosterols, steroid alcohols that aid in the symptoms of Benign Prostate Hypetrophy (BPH) and to aid in prostate tissue shrinkage.
   If you want to learn more about  Saw Palmetto Extract information, welcome to contact us!