Roselle Powder Extract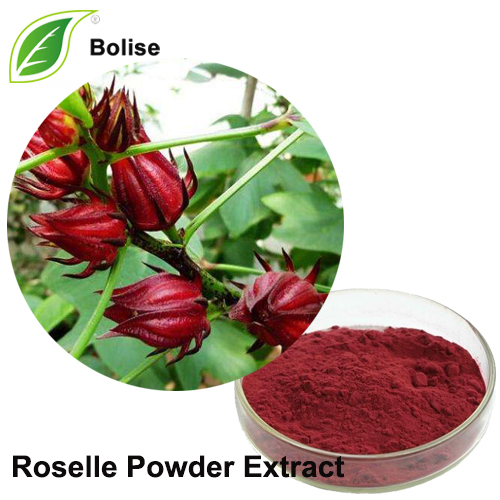 [ Products Name ]  Roselle Powder Extract ,Roselle Powder P.E. 
[ Origin ]  Calyces of Hibiscetin of malvaceae plant
[ Appearance ]  Purple red powder
[ Specification ] 20% anthocyanin, 10:1
[ Detection method ]  UV 
[ Used Part ] Calyx
[ Botanical Name ]   Hibiscus sabdariffa L
[ Composition ]
This production rich in amino acid, proteins and Vitamin C, hibiscus acid and contains lots of natural food color, minerals substance; It also contain anthocyanin, glucoside hibiscin, gossypetin. It has hairdressing effection, can reducing blood pressure and prevent cancer and caducity, it also can adjust feminine physiological rhythm.
[ Production ]
The powder is derived from soaking by Calyx of Hibiscetin, membrane separating technology, concentrating, freeze-drying. It holds roselle''s nutrient content, color effection and so on.
[ Application ]
Roselle powder is used for roselle tea, jelly, marmalade, ices, ice-cream, sherbets, butter, pies, sauces, tarts, and other desserts, especially for roselle tea and capsule. 
[ COA of Roselle Extract ]
Loss on drying: ≤5.0%
Ash: ≤5.0%
Mesh Size: 100% pass 80 mesh    
Polyphenol: 15%
Heavy metal: ≤10ppm
As: ≤2.0ppm
Residual Pesticide: Negative
Total Plate Count: ≤1000cfu/g
Yeast & Mold: ≤100cfu/g
Salmonella: Negative
E. Coli: Negative
[ About Roselle Powder Extract ]
The Roselle powder extracted from the calyx of Hibiscetin. It is easily soluble in water and ethanol water liquor, not soluble in acetone and oil. The aqueous solution is purple and red, and the powder also has a good stability under the acid condition.
[ Storage ] Store in cool and dry place.keep away from strong light and heat.
[ Shelf life ] 24 months.
 
   If you want to learn more about Roselle Powder Extract information, welcome to contact us!