Resveratrol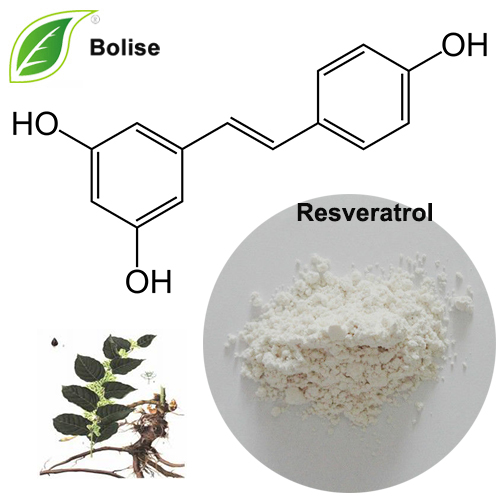 [ The source of the plant ]       Knotweed depaResveratrolrtment Giant knotweed rhizome, lily department and loose department plant.
[ Detection methods ]         HPLC
[ Botanical Name ] Polygonum cuspidatum Sieb.et Zucc
[ Used Part ] Root
[ Appearance ] White fine powder
[ Active ingredient ]  Trans-Resveratrol
[ Main specifications ]  20% 50% 95% 98%
[ Pharmacology function ]
It can prevent low density fat albumen from oxidize , have potential prevention and cure cardiovascular disease , gives protection against cancer , antivirus and immune regulating action , its function is shown as its anti-oxidant characteristic mainly.. Antibiotic antivirus , antitumor , resists the hepatitis , suppresses the agglutinate production with plain B2 of thrombus of blood platelet .
[ COA of Resveratrol(Trans-Resveratrol) ]
Loss on drying: 0.37%
Ash: 0.25%
Mesh Size: 100% pass 80 mesh
Heavy metal: ≤10ppm
As: ≤2.0ppm
Residual Pesticide: Negative
Total Plate Count:  ≤1000cfu/g
Yeast & Mold:  ≤100cfu/g
Salmonella: Negative
E. Coli:  Negative
[ About Resveratrol ]
Resveratrol is a powerful antioxidant that is produced by some plants to protect against environmental stresses. Perhaps the most notable producer of resveratrol is the grapevine, which produces large amounts of resveratrol in the skins of grapes to protect against fungal diseases and sun damage. It is therefore no suprise that wine (in particular red wine - which is fermented with grape.
[ Storage ] Store in cool and dry place.keep away from strong light and heat.
[ Shelf life ] 24 months.
  If you want to learn more about Resveratrol information, welcome to contact us!