Purple Sweet Potato Red Food Color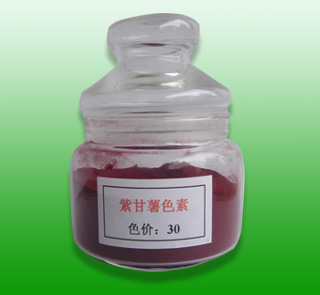 [ About Purple Sweet Potato Red ]
  Purple Sweet Potato Color, a pure natural and water soluble food color produced by our company, is extracted from purple root tuber of edible purple sweet potato (Impomoes batatas )  planted locally. The process is checking, washing, slicing, extracting, filtrating, purifying, concentrating, sterilizing(purple sweet potato color  liquid)spraying & drying (purple sweet potato color  powder).The main ingredient is cyanidin acyl glucoside & peomidin acyl glucoside.
[ Characteristic ] 
  Purple sweet potato color powder is red to purplish red, liquid is brown purple, both has the characteristic odor of sweet potato. It can be dissolved in water & alcohol, propylene glycol solution easily, but not in oil. The color of water solution changes when PH is different. When PH is between2-6 , the color is red or purplish red. The solution color becomes blue, and is unstable when PH is above 6. The color of solution can't fade under light for a long time, and also has good resistance to high temperature in an acidic medium.
[ Applications  ]
   Purple sweet potato color can be widely used in wine, beverage, fruit sauce, candy, cake. 
[ Storage ]
  Sealed avoid light, store in cool and dry place. Liquid product should store at 5 to 10℃ . 
[ Shelf Life ] 
  If the storage condition attains as mentioned above, powder is two years from production date, liquid is six months. Once opened, should seal up again and use within six months(powder)or one month(liquid).
  If you want to learn more about   Purple Sweet Potato Red information, welcome to contact us!