Parmelia Saxatilis Extract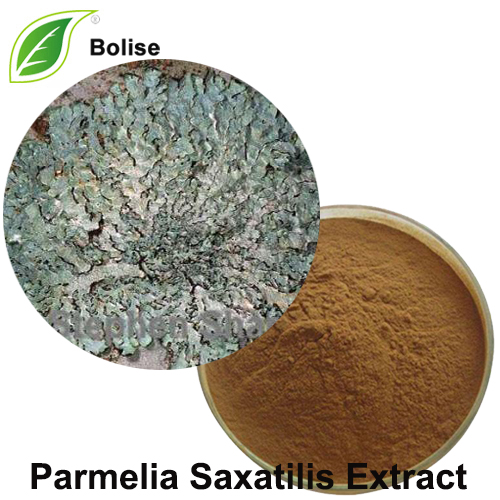 [ Common Name ] A Lichen
[ Botanical Name ] Parmelia saxatilis(L.)Ach.
[ Main Specification ] 25% triterpenoidal saponins
[ Detection method ] HPLC
[ Family Name ] PARMELIACEAE Mainly are Rate extracts
[Detection method] UV
[Extraction ratio] 10:1 20:1 or customized according to customer needs
[Appearance] Brownish yellow powder
[ Origin ]
On the bark of trees, flat, grey rosettes are formed. These rosettes are made up of fan-shaped lobes that spread out over the surface. Each lobe has a network of fine white lines on the surface, and has a lighter coloured edge. In addition, older plants have small, rod-like growths in the centre.Common on trees and rocks
[ About Parmelia Saxatilis Extract ]
Parmelia saxatilis extract is a kind of compositive powder extracted by advanced supercritical extraction technology from wild Parmelia saxatilis origin of Daxinganling Region in China.The content of main effective ingredient is Salazinic acid, 25%up in this product. The chemical ingredients include Salazinic acid, kitool acid, oleic acid, lichen acid, Stearia acid,Behenic acid,etc.. It can be used as remedy of nourishing blood, brighting eyes,clearing away heat,stopping metrorrhagia, diuresis,restoring nephridium ,building up body.The product is packed in poly bags with a aluminum foil outside. 0.5-5kg per bag, 2 bags per carton. This product has been exported to Europe, Japan, France,up to exporting standards level.Pharmaceutic factories and distributors are welcoome to contact us negoticiate with us for details.
 
   If you want to learn more about Parmelia Saxatilis Extract information, welcome to contact us!