Indian Madder Root Extract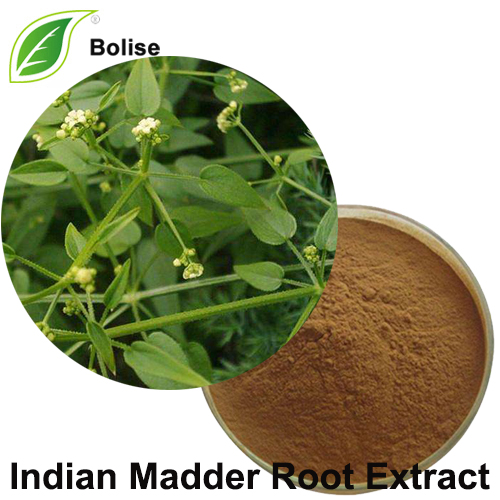 [ Specification ]  10:1, 20:1  
[ Detection method ]  HPLC     
[ Botanical Name ]   Rubia cordifolia L.
[ Used Part] Root
[ Appearance ]  Brown Powder
[ Action ]  
 To remove heat from blood and arrest bleeding, to eliminate blood stasis, and to stimulate menstrual discharge.
[ Indications ] 
 Spitting of blood, epistaxis, abnormal uterine bleeding, traumatic bleeding; amenorrhea with blood stasis; arthralgia, traumatic swelling and pain.
[COA of Indian Madder Root Extract] 
Loss on drying: ≤5.0%
Mesh Side: 100% pass 80 mesh
Heavy metal: ≤10ppm
As: ≤0.5ppm
Pb: ≤0.5ppm
Cd: ≤0.5ppm
Residual Pesticide: Negative
Total Plate Count: ≤1000cfu/g
Yeast & Mold: ≤100cfu/g
Salmonella: Negative
E. Coli: Negative
[About Indian Madder Root Extract(Radix Rubiae Extract) 
India Madder Root is the dried root and rhizome of Rubia cordifolia L. (Fam. Rubiaceae).
[ Storage ] Store in cool and dry place.keep away from strong light and heat.
[ Shelf life ] 24 months.
  If you want to learn more about Indian Madder Root Extract information, welcome to contact us!