Goji Berry Extract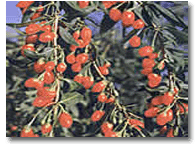 [Product Name]
Goji Berry Extract,Barbary Wolfberry Fruit Extract, Barbary Wolfberry Fruit P.E.
[English name] Barbary Wolfberry Fruit P.E. 
[Latin scientific name] Lycium barbarum L
[About Barbary Goji Berry Extract]
  1. wolfberry plant for sturdy shrubs, sometimes as small trees warrants, high up 25cm , gill plates.
  2. single leaf or love problems in a few films Duanzhi, long oval-shaped chair or Luanzhuang rule circular needles, long 2 ~    3cm And the width 2 ~ 6mm , and regardless of the service into a wedge-shaped handles, the whole fate.
  3. spent decades, often 1 ~ few flowers Cusheng in Duanzhi; Calyx shaped; Corolla funnel-shaped, pink or purplish red.
  4. berries Oval, the long 10 ~ 20mm , the diameter 5 ~ 10mm , and red. Florescence 5 ~ 9 Months, her view 7 ~ 10 Months. . Born in hillsides, fields sun dry. Smell Special smell, taste special Colour Light brown, brown
[Goji Berry Extractt Effectiveness]
  1. immune regulation, lowering blood glucose, Jiangxiezhi, delay aging, anti-fatigue effect.
  2. medlar oil rich rich Yayousuan, Yamasuan, oleic acid, vitamin E , carotene, and other biological active substances, lowering blood vessels with cholesterol to prevent arteries congee kind grow and enhance eyesight and prevent glaucoma, Zengbai, rain, skin, reduce pigment and other role.
[Main pharmacological reactive]  
  Wolfberry polysaccharide of a direct function of the immune cells active role in promoting, which may increase their cells [ Ca2+].

  If you want to learn more about Goji Berry Extract information, welcome to contact us!