Evodia Extract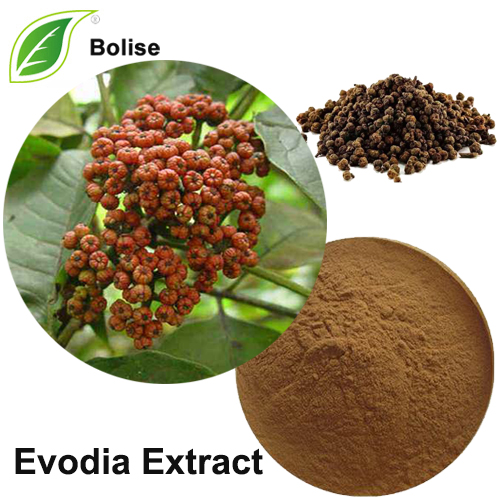 [Product Name] Evodia Extract, Evodia P.E. 
[Botanical Name] Fructus Evodiae
[Origin] Evodia fruit is the small, reddish fruit of the plant Evodia rutaecarpa
[Used Part] Fruit
[Appearance] Brown powder
[Specification]
1) Extract Ratio 10:1
2) Evodiamine 10%-98% HPLC 
[Detection method]  HPLC 
[Active ingredient] Evodiamine, Dehydroevodiamine limonin, Berberine
[Characteristic] It has a warm nature and an acrid, bitter, slightly toxic taste, although the fruit is quite fragrant.
[COA of Evodia Extract]
Loss on drying: 3.64%
Residue on Ignition: 3.12%
Mesh Side: 100% pass 80 mesh
Residual solvents: ≤0.05%
Heavy metal: ≤20ppm
As: ≤0.5ppm
Pb: ≤0.5ppm
Cd: ≤0.5ppm
Residual Pesticide: Negative
Total Plate Count: ≤1000cfu/g
Yeast & Mold: ≤100cfu/g
Salmonella: Negative
E. Coli: Negative
[About Evodiamine Extract]
Evodiamine is an extract from a plant called Evodiae Fructus. There have been many studies with this compound, but almost all have been done either in a laboratory on isolated cells or in rodents. No published human trials could be found.Evodiamine Extract has been promoted as a weight loss agent.
[Function of Evodia Extract]
1. Evodia Extract is used to treat symptoms of abdominal distress. These include nausea, vomiting, and diarrhea. It is said to be especially effective in treating morning diarrhea. Evodia is used to stimulate the appetite and to treat abdominal symptoms associated with lack of interest in food.
2. Evodia Extract is also used as a painkiller. It is a remedy for headaches, especially headaches associated with nausea and vomiting. Traditional Chinese herbalists also use it to treat pain in the upper abdomen and pain associated with abdominal hernias. According to Chinese herbalism, the warm nature of the evodia fruit counteracts cold conditions in the stomach.
3. Evodia Extract also has anti-inflammatory, anti-tumor, anti-viral, astringent, and diuretic properties. Studies shows taht extracts of evodia fruit strongly inhibit the growth of one specific bacteria (Helicobacter pylori, a bacteria usually treated in mainstream medicine with antibiotics). Unlike conventional antibiotics, the extract did not alter the growth patterns of any other intestinal bacteria. This finding supports the traditional use of evodia fruit in digestive disorders. 
[Storage] Store in cool and dry place.keep away from strong light and heat.
[Shelf life] 24 months.
   If you want to learn more about Evodia Extract information, welcome to contact us!