Euphorbia Extract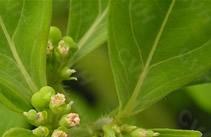 [About Euphorbia extract]
  Euphorbia extract is a common herb extract found all over China.The extract of Euphorbia has been found to have significant anti-inflammatory, analgesic, haemostatic (stops bleeding) and wound healing properties. Preclinical and clinical trials have demonstrated its efficacy as an anti-hemorrhoid agent.
[Pharmacology] 
 The major components of Euphorbia Extract are Apigenin, Luteolin,Apigenin-7-glucoside and Luteolin-7-glucoside. The major phenolic compounds present are Gallic acid, Ellagic acid and Tannins.
  Euphorbia extract can serve more than his mouth tingle throat, stomach discomfort,diarrhea, dizziness, poisoning; it has direct contact with skin and mucous role in stimulating red primers.
[ Package ] Cardboard drums, with double aseptic food poly bags inside. Or by cartons,with vacual aseptic food poly bags inside, 20kgs per carton with 8 bags inside,25kg per bag.
  If you want to learn more about Euphorbia extract information,welcome to contact us !