Corosolic Acid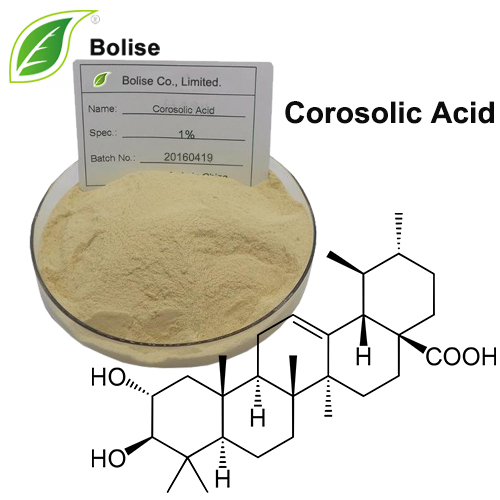 [Plant Source] Loquat leaf
[Specification] Corosolic Acid ≥6%
[Detection methods]  HPLC
[Extract Solvent] Ethanol & Water
[Part Used] Leaf
[CAS No.] 4547-24-4
[Molecule formula&Molecule weigh]  C30H48O4 ; 472.699720
[Appearance] Light Yellow Amorphous powder
[Synonyms]  2-alpha-Hydroxyursolic acid; (2a,3b)-2,3-Dihydroxy-urs-12-en-28-oic acid 
[COA of Corosolic Acid]
Particle Size:  NLT100%Through 80 mesh
Loss on Drying:  ≤8.0% 
Ash content:  ≤5.0% 
Bulk Density: 41 g/100mL
Total Heavy Metals: ≤10ppm
Arsenic:  ≤2ppm
Total Yeast & Mold:  ≤100cfu/g 
E.Coli:  Negative
Salmonella:  Negative
Staphylococcus:  Negative
[Function of Corosolic Acid]
1. Ability to lower blood sugar
2. Work as a common ingredient in weight-loss supplements / products as a metabolic enhancer.
3. Used in the treatment of blood pressure, renal and immune system benefits.
4. Treatment for diabetes and hyperglycemia (elevated blood sugar). 
[About Corosolic Acid];
Corosolic acid is a substance extracted from Lagerstroemia speciosa L. and has been reported to have biological activities in in vitro and experimental animal studies, particularly due to its influence on blood sugar. Thus, corosolic acid may have an influence on diabetes. Corosolic acid is found in many plants, particularly Banaba, but also in loquat leaf, almond hulls, Weigela subsessilis, Perilla frutescens, Campsis grandiflora and other herbs.It is similar in structure to ursolic acid, differing only in the fact that it has a 2-alpha-hydroxy attachment.
[Expiration Date] 2 Years when stored properly
[Packing and Storage] Inside: Plastic bag, Outside: Neutral cardboard barrel & Leave in the shady and cool dry place.

If you want to learn more about Corosolic Acid Powder information, welcome to contact us!