Clary Sage Oil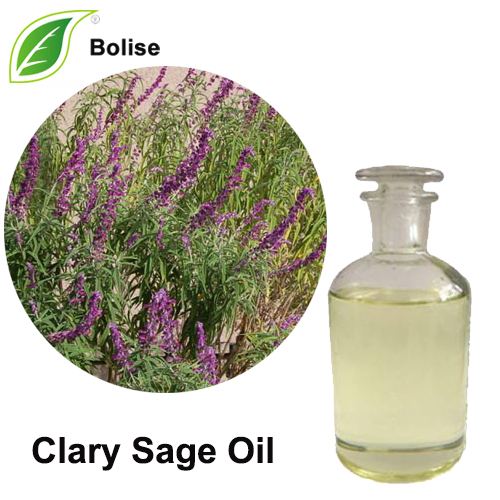 [ About Clary Sage Oil ]
  Clary Sage Essential Oil is warming, sedative, an excellent nerve tonic, and can induce feelings of mild euphoria in some individuals. It is thought enhance one's ability to dream. Clary Sage oil is a tonic for one's overall well-being, and is ideal for use on a regular basis in baths or as a perfume. As Dr. Kurt Schnaubelt notes in Advanced Aromatherapy, "Clary Sage impresses with its aroma. When applied to the wrists or temples, it is relaxing in a gentle, effective manner." 
[ Plant description ]
 A bitter, astringent, warming herb. Anti-spasmodic, digestive, nervine, stimulates the uterus and estrogen production. Controls vomiting and is traditionally known as an aphrodisiac. 
[ Appearance ]Off-white to amber colored solid, the odor has a faintly woody characteristic, balsamic and amberlike.
[Origin] 
  Clary sage is an herb with white flower petals with pointed ends. The plant will grow to be approximately two feet in height. It is sought after for its aphrodisiac, sedative and tonic characteristics. It can be found world wide, but the best Clary sage oil comes from France, Britain, and Morocco. The Clary sage essential oil is extracted by steam distillation from the green parts and flower tops.
[Pharmacology function]
  The essential oil Clary sage it used for its antidepressant, antiseptic, deodorant, digestive and sedative properties. In aromatherapy mixtures it is blended with Atlas cedarwood, bergamot, cypress, geranium, jasmine, lavender, and lime.
   Clary sage is also used for the reproductive system, some herbalists prescribe Clary sage mixtures for couples experiencing difficulty-conceiving children. It is also used for both premenstrual syndrome and menstrual pain. Clary sage can be used as a natural muscle relaxer, relieving muscle spasms, backaches, and stiffness of the joints and muscle cramps. Clary sage is useful during childbirth labor, but is not recommended during pregnancy. 
[Uses]
   Apply Clary Sage essential oil topically or diffuse. Add a few drops to a warm bath; apply at the wrists as a perfume or at the wrists, temples, or bottoms of feet for relaxation. May enhance one's ability to dream and is very calming and stress relieving. 
Possible Actions: Traditionally used for relaxing, spasmolytic, supports hormone balance, may help with PMS; may help with blood sugar control. 
   If you want to learn more about Clary Sage Oil information, welcome to contact us!